At our second meeting in July things did not work out exactly as we had planned. Our president was out of the country and we did not have a guest speaker scheduled. But that did not stop us from getting together and sharing a meal and having some fun like we always do. Lion Wayne, 1st VP, filled in and presided over the meeting. And he even presented a program for us in lieu of a speaker. Together we watched a DVD about Lions building a brighter future. The DVD showed many examples of how Lions Club International Foundation has helped people all around the world in times of need with disaster relief efforts and with rebuilding efforts afterwards. All local clubs like ours contribute some portion of the money from our fundraisers to LCIF. This money from clubs all around the world is aggregated and used to accomplish things that one club simply could not do on their own. It's one of the things that makes Lions so special. We simultaneously serve the needs of our local community while providing support for people in need all around the world.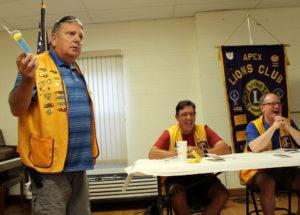 And, of course, Lion John Potts (our Tail Twister) had the opportunity to sell brand new "immunity idols" and other fun items. The money raised in these sales goes to a local cause choosen by the board of directors of the club each year.
If you want to learn a little more about what Lions do, take a look at this link and then this link. And if you live in or near Apex come visit us at a meeting sometime. We meet on the first and third Thursdays at the CC Jones building in Apex at 6:45 pm.