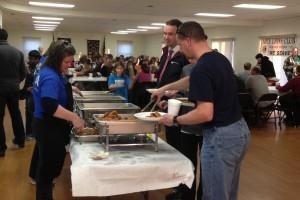 For over 30 years, the Apex Lions Club has held a Fish Fry fund raiser to make Apex a Better place to live and raise our families. It has been held at the CC Jones Building at 309 Holleman Sreet on the Friday following the third Thursday from the beginning. In the early years (1970's) it was actually a Bar-B-Q, but since so many others were doing those the Lions wanted to offer folks a different menu. As the event falls during Lent that made fish an even more desirable food for the season.
The Lions have long dedicated the funds from this event to local needs. In the past, proceeds have gone to specific families in need, Boy Scouts Building Project, Western Wake Crisis Ministry, The Apex Police Explorer Post to name a few.
This year's event will be dedicated primarily to Amber Lunn. Amber is 51/2 years old and has been battling eve cancer since she was 3. This heroic little girl and her family captured our Lions Club attention and provide us and the community the opportunity to help them in their battle. Amber and her family live in Holly Springs. These funds will be used to acquire a new prosthetic eye as she grows to a new size requirement. A small amount of the funds raised will be used for the support of Boy Scout Troop 209 and Pack 312 chartered by the Apex Lions Club.
Tickets are on sale from Apex Lion members or by calling 919-218-3454. Tickets can also be purchased on the day of the event at the CC Jones Building 309 Holleman Street in Apex.
Here are some details on the Event:
· PRICE – $10 PER PLATE WITH CHILDREN 6 and under $ 5 AT THE DOOR
· SERVING IS BUFFET STYLE – ALL YOU CARE TO EAT – ( IN ONLY)
· FISH, COLESLAW, BOILED POTATOES, HUSH PUPPIES, DRINK AND A CHOCOLATE BROWNIE
· SOME SPECIALITY DESERTS WILL BE OFFERED FOR SALE
· LOCAL DELIVERIES OF 10 PLATES OR MORE ARE AVAILABLE – CALL 919-218-3454 TO PLACE ORDERS
· FOOD SERVED FROM 11 AM UNTIL 7 PM
· TAKE OUT PLATES ARE AVAILABLE
Where can you get a full meal with drink and dessert, no tipping, no taxes, no hassle and no dishes to wash all for only $ 10 a person plus know that the profits all go right back into our community. "Heck you can feed the entire family for less than half with it costs to eat out"
COME ENJOY A GREAT MEAL AND – "MAKE APEX A BETTER PLACE TO LIVE"
WE THANK YOU FOR YOUR SUPPORT
LIONS MOTTO – "WE SERVE"