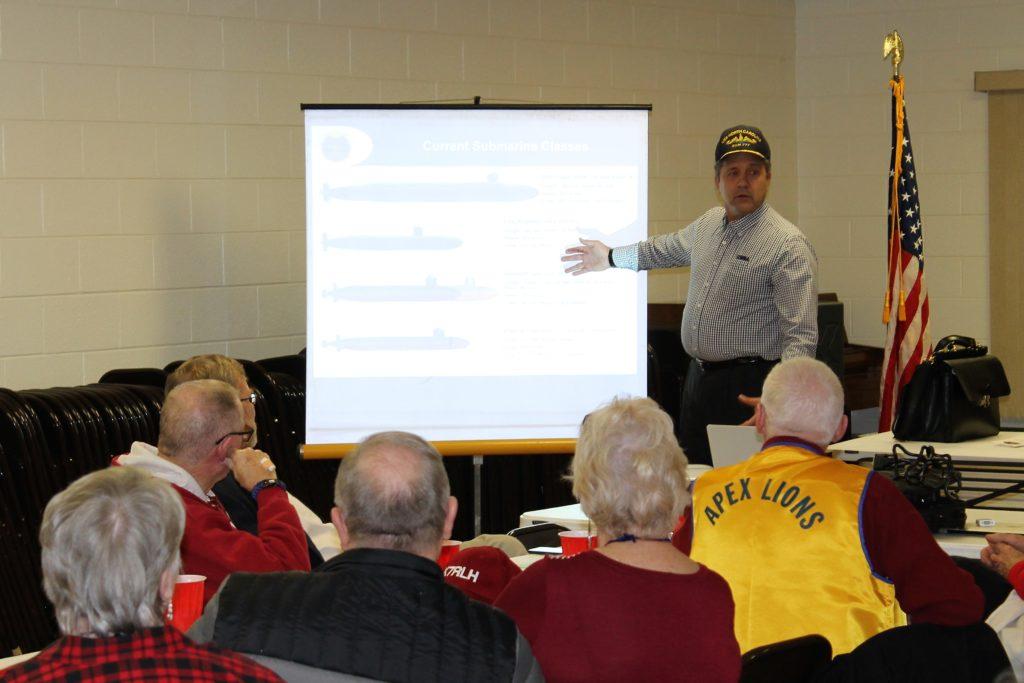 This evening our guest speaker was Captain Steve Gillespie, retired US Navy Commander. Captain Steve shared a great deal of information about US Submarines including the USS North Carolina, a Virginia class attack submarine stationed in Pearl Harbor, Hawaii. There is a group of people that support the crew and families, promote awareness and support long term goals regarding the USS North Carolina called the SSN 777 Club and they have a Facebook page as well.
During his presentation he shared quite a lot of information and statistics about the various submarines, classes, capacities and capabilities. He also showed us a few videos from the web and on YouTube. The USS North Carolina is longer than a football field, but only 34 feet in diameter – so it is basically a long tube. The space inside is very tight. For example, the height from floor to ceiling inside is only 6 feet 2 inches. And, to remain undetected, attack submarines do not surface very often at all so they need to take several weeks or even months worth of food for the whole crew. But on one particular mission their timeline was unknown so they decided to bring as much food as they could to be safe. So they layered 12 inch cans of food all along the floor and walked on those until they ate their way back to the original floor. In the mean time the ceilings were only 5 feet 2 inches tall!
During times of peace the submarine fleet provides services such as surveillance, reconnaissance, strategic deterrents and response capability in the event of a catastrophic event on the mainland. They patrol large chunks of the sea and provide assistance in drug operations among other things. The latest technology including periscope cameras, drone technology, infrared and sonar capabilities are amazing now and improving every day.
Captain Gillespie, a native of Jacksonville, Florida, graduated from the United States Naval Academy with aBachelor of Science Degree in Computer Science in 1987. Captain Gillespie served in numerous commands over his 30-year career, most notably as Commanding Officer of the ballistic missile submarine, USS RHODE ISLAND (SSBN 740) (GOLD) from 2005-2008. Captain Gillespie most recently commanded the Naval Reserve Officer Training Corps, North Carolina Piedmont Consortium from December 2014 until June 2017. He served as Professor and Chair for theDepartment of Naval Science at Duke University, University of North Carolina atChapel Hill and North Carolina State University. He retired from the Navy in September 2017.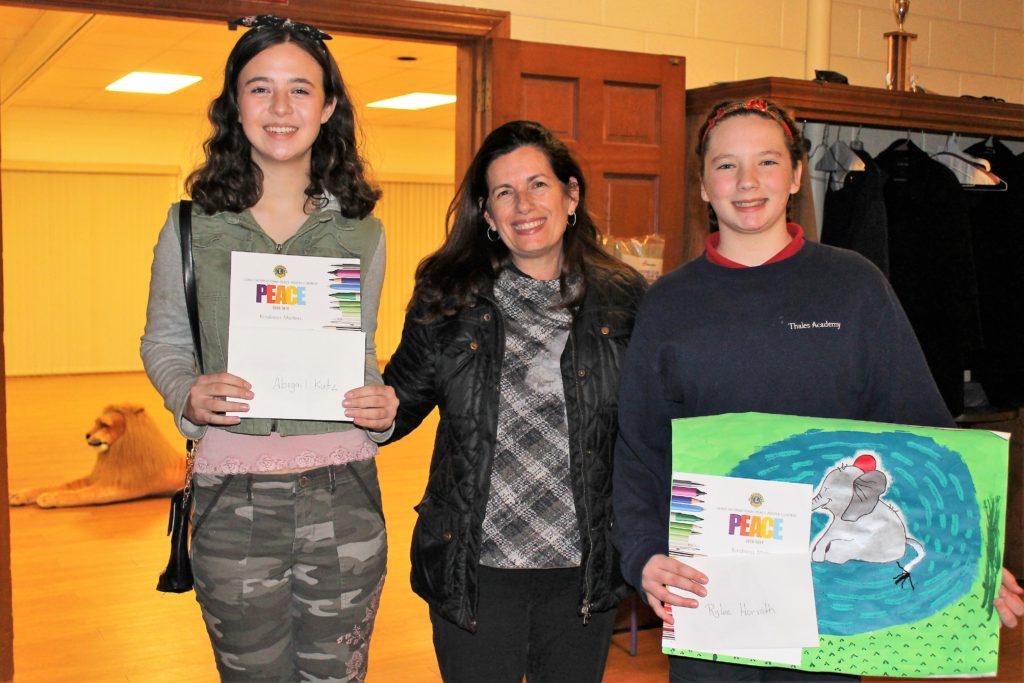 We also invited our Peace Poster contest winner and runner up to present their posters and receive their awards. Thales Middles School teacher Ms. Hohls class had 20 participants this year. The winner this year was Abigail (Abby) and the runner up was R.lee Pictured above are: Abby, Ms. Hohls and Rylee. Rylee is holding her poster with her award certificate. Abby's poster is not pictured because it was submitted to the District level competition. If it wins at the district level it will be submitted to the State and could eventually become the International contest winner! We wish her the best of luck!