This evening we celebrated several achievements.  First, our club is now 81 years old!  Second, we celebrated another fabulously successful fundraiser at the State Fair.  Finally, we celebrated some individual Lions with awards.
Our emcee once again was Lion Horace Johnson (who also just so happens to be the manager of the State Fair fundraiser).  He began the program by highlighting some of the people that we especially helpful and who we don't get to see any other time.  These fantastic people work behind the counter, make biscuits, service equipment or perform one of a number of other necessary functions to keep the fair booth running.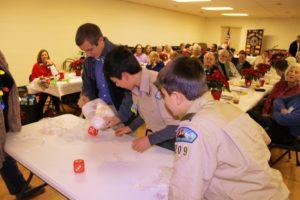 After dinner was over (and what a meal it was) District Governor Nathan Medlin gave us a few words.  He asked us to keep up with the district financial goals but acknowledged that we (Apex) always do.  He also reminded us that one of the district goals is to add two new members each quarter.  That's one we'll work on, for sure.  Membership for the district is roughly even so far this fiscal year but we would all like to see that number go up before the year is finished.  He also gave us a few other updates on Camp Dogwood construction, LCIF plans and goals and finally encouraged everyone to go see Camp Dogwood and the VIP Fishing Tournament if we had not already done that at least once.  Lion Wayne added that we have supported Camp Dogwood in recent months by providing a new patio set as well as a microwave and room renovation funds.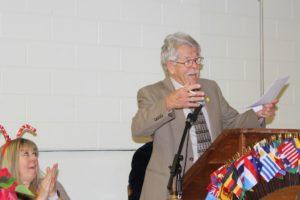 Next our Tail Twister (Lion John Potts) had some fun with a few games.  First he had three couples wrap a present with one arm each.  The couples put their arm around each other and then used their free arm to cooperate with each other to wrap the box.  All three couples got gift cards for participating since it was so close.  Then he had five individuals unwrap a gift that had been wrapped in about 400 feet of plastic wrap.  They had dice and had to roll a double to determine when to switch players.  That took quite a while so the meeting continued while that game played out.
Lion Horace Johnson provided some additional information about the State Fair including some of the more comical things that happened.  Let's just say that people who attend the State Fair can be pretty funny sometimes.  The new sign and lights made a significant impact on our evening business which was up about 25% from last year.  Even though the fair was closed the first day due to the rain (hurricane) we still exceeded last year's proceeds!  It was our best year so far!  Thanks to everyone who came to support us!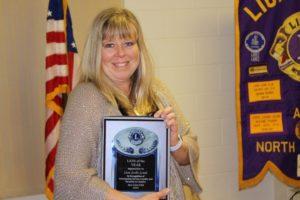 Keeping with tradition we save the awards for last.  This year we gave out pins for membership:  20 years to Lion Greg Monteleone and 40 years to Lion Charles Livengood.  And the Lion Of The Year was awarded to Lion Joe'l Lynde.  Congratulations Lion Joe'l on this well deserved recognition!