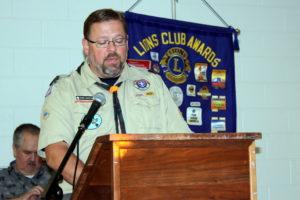 This evening our speaker was Byron Schaefer, Troop 209 Scout Master. Byron became Scout Master of Troop 209 in January succeeding Jeff Kidd. He provided us with an update of the state of the troop. Troop 209 is chartered by the Apex Lions Club so they provide updates annually to our membership as well.
Currently there are 82 scouts registered which is down slightly from last year but there are about six more recruits in process so they should be back to about the same size as last year very soon. About 70% of the scouts come from Pack 312 (also sponsored by Apex Lions Club) each year. Some others are transfers from other Troops and the remainder are new recruits to scouting just starting out at Troop 209. There are also 30 registered leaders which are mostly parents of scouts but also includes some parents of scouts who have aged out as well. It's a great thing to see the parents stay involved even after their children have aged out. It really shows the commitment and dedication of the leaders to these young men. And several of the leaders are in the process of Wood Badge training which is a fairly intensive leadership training program which again, demonstrates their level of commitment. Lion Greg McGrew (Apex Lion) is one of the trainers for the Wood Badge as well. Two leaders are also getting their certification in climbing and six more are getting CPR/AED certified.
This past year there were seven scouts who attained their Eagle rank. There are fourteen Life Scouts as well. And the Order of the Arrow includes 16 scouts and 15 leaders from Troop 209 with 4 more scouts and 1 additional leader expected to join their ranks before the year is over.
In terms of service projects Troop 209 has an exhaustive list. There were six Eagle projects which included things like spreading mulch at the Occoneechee Camp and cleanup at the lake, assisting with the Apex Special Needs Fishing Tournament, Memorial Day plaque placements, assisting at our Fish Fry and the State Fair and, of course, the Luminaries preparation and sale which is their biggest fundraiser.
Byron also shared that Troop 209 has transferred responsibility for the Winter Camp to the Occoneechee Council and expanded it's scope. This past year there were approximately 500 scouts in attendance. Troop 209 was awarded first place in the District Camporee for the second straight year.
Finally, the troop has made some enhancements to the scout hut and annex by adding a cement patio and plans to do some grading to alleviate some water runoff issues caused by recent parking lot changes.
All in all, it sounds like Troop 209 is doing very well and in good hands!
Before our speaker we had an Eagle scout candidate present his Eagle project to our club.  Scout Turin is building a series of bird houses to be located at Walnut Creek Park in Cary.  He has raised some of the funds needed but still looking for some additional help.