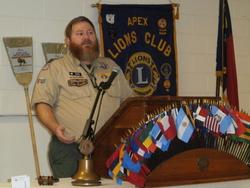 Our speaker this evening was the new Scoutmaster for Boy Scout Troop 209, Jeff Kidd. The Apex Lions Club is the charter organization for Troop 209 and also Pack 312. Jeff has taken over the Scoutmaster duties from Stacey Barbour after many years of service. Jeff was born in Dalton, GA and received his degree in Computer Science from Georgia College. He is currently employed at Cisco where he has been for the last 11 years (the last 3 as a regular employee). Jeff's wife, Jennifer, is a photographer in Apex and owns Kidd Photography.
Scoutmaster Jeff shared some information with us about how the Troop is doing. They just finished rechartering last night and currently have 51 scouts enrolled. In February, some scouts from the various packs in the area will join the troop and they anticipate another 15-20 scouts at that time. So they should end up with somewhere around 70 scouts, which is a good size for the troop because it comes close to the capacity of the scout huts available. This past year was very successful as 6 scouts earned their Eagle and 51 scouts advanced in rank. The troop spend 26 nights camping in the woods and have 22 adult volunteers registered to help the troop.
Looking forward to activities for this year there is a road side cleanup event coming up in February to pick up the trash along Green Level Church Road and many more activities. A question was raised about the status of huts. The scouts finished the interior work on the new building and even got some used cubicle walls to help divide the space up and dampen sound. The old hut building needs some work on a threshold and the exterior of the building so that will be another project for this year.
Finally, Scoutmaster Jeff informed us that he had worked on his Wood badge in 2012 which involved 5 projects. One of those was to introduce shooting sports back into the troop. Jeff is also NRA certified and one of the other parents is capable of training in archery. So this year, the troop will have some exciting new opportunities to learn some new skills. It seems like it will be a fun year for the boys (the young ones and the older ones)!