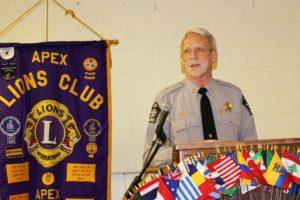 This week our guest speaker was Wake County Sheriff Donnie Harrison.  Donnie was first elected Sheriff of Wake County in 2002 and was re-elected to second, third and fourth terms in 2006, 2010 and 2014.  He is the first certified law enforcement officer to be elected Sheriff in Wake County.  Before service Wake County as Sheriff, Donnie Harrison was a veteran law enforcement officer.  May 10, 2018 marked his 51st year in law enforcement.
For 26 years he served North Carolina Highway Patrol, being assigned to Wake County during his entire career.  In addition to working in Wake County, Sheriff Harrison served as Chief of Security for the lieutenant Governor from 1988 – 1992 and also taught numerous courses at the Highway Patrol Academy.  Her retired in 1993 at the rank of Sergeant.
Sheriff Harrison has also been recognized as one of Wake County's top canine search and rescue handlers.  Even before he was elected Sheriff, he trained his own dogs and voluntarily offered his services to find lost Alzheimers patients, lost children, and to track down criminal suspects for local law enforcement agencies.
While law enforcement has been an integral part of Sheriff Harrisons life, it has not been his only interest.  He has served as a volunteer firefighter, a youth softball coach, and was a highly respected high school and college basketball official.  Sheriff Harrison has the rare distinction of having received the prestigious Order of the Long Leaf Pine, not once but three times from three different governors.
Since taking office, Sheriff Harrison has been very much a hands-on Sheriff.  He works the road on both day and night shifts, responds to calls, checks in with the detention staff, participates on drug raids and accompanies investigators as they work cases.
"I always said I would be a working Sheriff out there with our employees."  Harrison says.  "With over 51 years of law enforcement experience, I've been there and know what they face.  I want them to know that I love law enforcement just as they do and I am proud to work side by side with them."
Sheriff Harrison grew up in Bear Grass, North Carolina.  He currently lives in Garner and is a member of Holland United Methodist Church.  He has two daughters, one granddaughter and one grandson.
Sheriff Harrison shared some information about the department and his approach to leading.  There are just over 1,020 employees currently  Most people would say that Donnie is conservative, maybe even "tight".  And there is a reason for that.  He grew up poor – his parents did not own a car and they lived on a farm so he knows the value of a dollar.
He also shared some of the things he is working on like the fact that he has been appointed to the school safety committee.  Wake County Public School System is one of the top 20 largest school systems in the nation.  Given the rise of violence in public schools it is just a matter of time before we have an incident in here as well.  So he is constantly training the deputies and searching for solutions to improve school safety in Wake County.  One of the items he has lobbied for is to create a police department dedicated to the school system to focus primarily on the issues and challenges that are unique to our schools.  Our school system population is approximately the same side as the city of Cary but we currently dedicate less that a dozen officers to protect that population.
Wake county has also seen increase in drug activity in recent years.  Prescription drug use is the fastest growing concern.  He has also lobbied for laws that would decrease the number of pills that can be prescribed by doctors to minimize the risk of those pills getting sold to others.  Pentanol is a serious concern.  Based on the analysis of the drug from recent busts it appears that the concentration is getting higher and higher.  This most likely means that this area is becoming a hub where the drug is being distributed from to other locations after it is "cut down" in concentration for use.  Just 2 lbs of Pentanol can produce 1 Million pills and be sold for anywhere from $10 to $20 Million.
Recent years have also been very difficult with respect to the portrayal of law enforcement to the general public.  It is getting more and more difficult to find officers because of how many times the news has wrongly accused the police.  He shared a quote from Paul Harvey which says "One half of one percent of officers are bad but that is still better than the clergy!" and that brought a laugh.  But then he showed us a very interesting video.  It was from a Huston news program that did a documentary of an activist that had been well known for questioning the police procedures and use of force.  He was allowed to experience some officer training which were based on real life experiences that involved the need for split second decisions in life or death situations.  After seeing what it was like first hand to try to deal with these situations – and having some of them not end well due to bad decisions or lack of decisive action – he changed his opinion and pleaded with the public to stop resisting officers and obey the commands instead.  He also showed us a video from an officers vest camera of a person refusing to obey an officers commands to stop walking away.  As the officer approached him he turned and shot the officer in the blink of an eye.  The officer in that video did survive but it showed just how quickly things can go wrong sometimes.
His final words of advice to us were to please support law enforcement, military personnel and first responders.  And anytime you see them in public please thank them for their service.  They really do put their lives on the line to protect and serve us all.