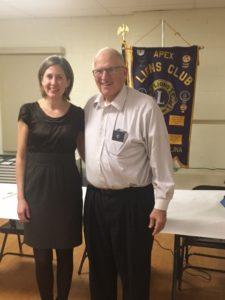 Our special speaker this meeting was Shannon Cox, Senior Transportation Planner for the Town of Apex.  Shannon discussed the transportation plans for the next 5 years for the Town of Apex.  Currently the population in Apex is ~ 55,000, which means traffic can be very heavy during commute times.  Residential Single Family homes in Apex is ~ 65% and Non-Residential is ~27% for schools and 18.6% retail.
Advance Apex is program to improve major thoroughfares over the next 5 years in Apex but yet keep the small town charm while continuing to grow.
Funded Projects 'Roadway'.  The following road will be improved:
Apex Pkwy SW Connector begins ~2020
NC 55 Widening begins ~2021
US 64 improvements begins ~2022
Ten/Ten widening begins ~2023
Transit Projects
Holly Springs – Cary Express (HSX)
Route 305 (Apex to Raleigh) changes
Route 311 (Apex to RTP) changes
Downtown enhanced transfer point
Bus stop improvements
Pedestrian Projects – Funded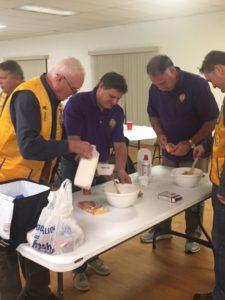 James Street to Downtown
Apex Barbecue Road and Kelly Road
Beaver Creek Greenway
Middle Creek Greenway
Safe routes to school – multiple projects (High visibility crosswalks at Laurel Park ES and Apex Friendship HS, Multi-use path at Apex Friendship HS and Scotts Ridge ES)
Some additional Long Range Plans
Go Forward – A community investment in Transit
Southwest Area Study 2018
Downtown Apex Master Plan & Parking Study
And for dessert we had a pudding competition.  I am told it was both comical and tasty!