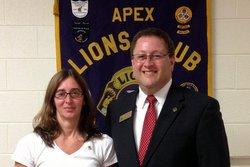 Tonight was Lion Bekki's last meeting as our club President! We thank her for a great year of leadership and accomplishments as a Club of Excellence.
Apex Mayor Pro Tem Gene Schulze was our guest speaker this evening. He said the Apex Town Council just finished passing a budget for the town for the next fiscal year starting in July. Additional sidewalks and parks are the most requested amenities by residents. The most expensive projects are usually Public Works related. Gene mentioned an interesting fact that we have $4.9 billion total property value of the town. Apex continues to be a steady growing community. The town was stable during the recession and has continued through today. The town has a $15 million in rainy day funds and is well equipped in that regard in case of emergency. Mayor Pro Tem Gene spoke about the Apex EMS being under control of the town now. We have a new nature park in Apex, one that we've needed in the west part of the town for some time. Looking to NW Greenlevel Church area of Apex for a new park. New water treatment plant coming on in the fall. $370 million project spilt between Apex, Cary, and Morrisville. The town has two new hires, an Economic Development Director and a new Assistant Town Manager. We have 8 employees per 1k capita, who work very hard for it's residents. The 2030 Land Use Plan, updated every five years or so. Always solicit community input on the plan and Gene said he felt the plan represents well the views of the people who live in Apex.
Tail Twister Lion John asked four participants the top 8 things you don't like about a hospital stay? Coming up with his own list during his recent stay 😉
1.No concept of time, meaning we may be back in a min or tomorrow
2.Sharing a room
3. Heart healthy food
4.Hospital clothing, those straps are worthless!
5. IV Machine going off in middle of the night & can't turn it off, no one comes to help
6. Needles and IVs
7. Woke up every 4 hrs to draw blood, etc
8. Getting a sponge bath by the nurse with your spouse watching!
Lion Carl won with having the most correct answers!