This evening our speaker was Carl Suff from Simple Gifts Community Garden. Carl has been instrumental in helping find a new location and getting the garden "rebooted".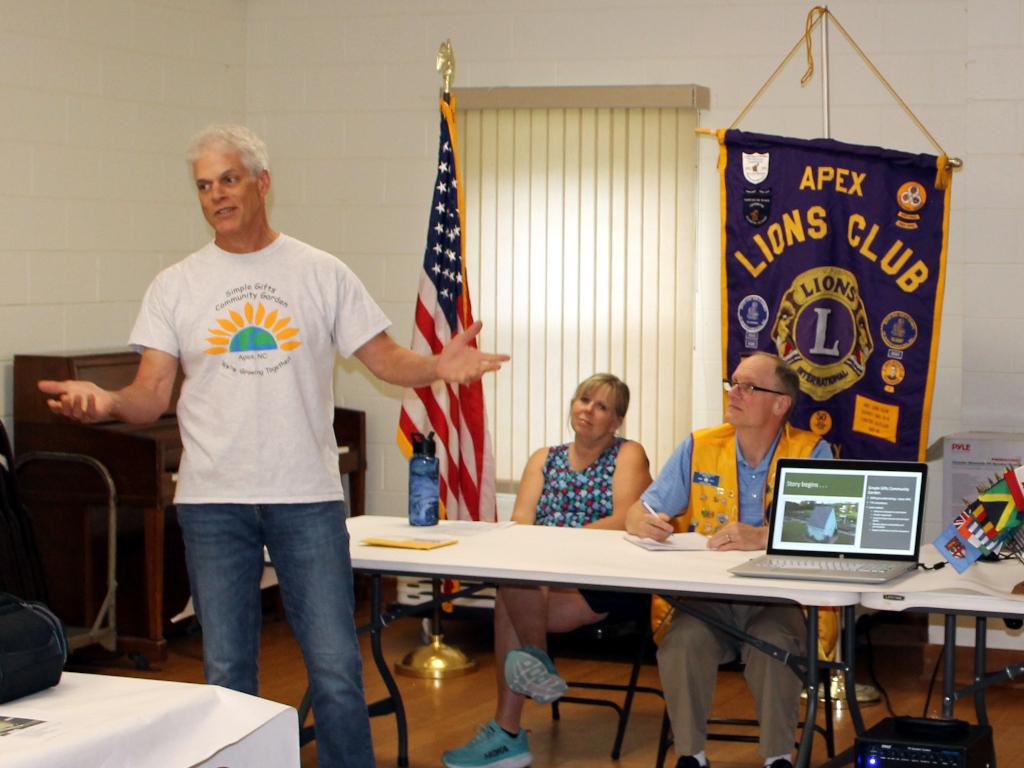 Once upon a time Apex had a Community Garden called Simple Gifts. It began as a ministry of Apex United Methodist Church (and it still is) but was open to anyone in the public to join as well. Their focus was to grow food for people in need and the members also had the opportunity to take some home each time they volunteered as well. The rest of the food is donated to 5 local food banks so nothing goes to waste! At the peak, in 2021, those donations were approximately 4,500 lbs!
However, a few years ago Simple Gifts Community Garden was forced to relocate. The owner of the land that they were using passed away and the family decided to sell the property. So the search for a new location began. And it wasn't easy to find property suitable for this project.
But, fortunately, the YMCA learned about the project and offered a lease for at least the next 5 years on the property where they plan to build a YMCA in the future. The land is at the end of Tingen Road. There is a pond there which will help with irrigation as well.
There is still plenty of work to do, though, to get started again. Fences and gates need to be built, a parking lot is needed, as well as a foundation for the shed and more. In addition to people to help tend the garden they also need financial support – especially now.
If you are interested in learning more please visit the website online at Simple Gifts Community Garden
We also had a presentation from Troop 209 Life Scout Charlie. He plans to build benches for the CC Jones pool area and mens locker rooms as his Eagle project. The swim club is donating all of the materials but he will still have miscellaneous expenses (likely less than $100) to provide food for the workers assisting him.