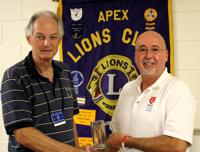 Tonight's program speaker was Michael Dorman, Executive Director of Military Missions In Action (MMIA). Michael has a big heart for our disabled veterans. A retired Coast Guard veteran himself, he established Military Missions In Action back in 2007 because he believes that all disabled veterans should have the right to live independently. Michael shared a few heart warming stories with us of how MMIA has been able to change the lives of some veterans and give them the assistance that they so desparately needed and deserved. Unfortunately, many other organizations like the Wounded Warriors and Veterans of Foreign Wars (VFW) have criteria that must be met or restrictions on the kinds of service that they can provide. All too often these issues prevent veterans from getting the help that they need. But that is also where MMIA can come to the rescue. Their primary focus is to provide home modifications that enable disabled veterans to live independently but they also provide home maintenance services and other services as well. The programs fall into four main categories:
Operation Building Hope – provides home modifications for fully-accessible homes
Homes for Healing – assists veterans suffering from Traumatic Brain Injury (TBI) and Post Traumatic Stress Disorder (PTSD)
Operation Warrior Golf – teaches veterans to overcome their disabilities through the game of golf
Fill The Footlocker – supports active duty service men and women with care packages of comfort items from home
This amazing organization is incredibly efficient as well. In fact, in 2011 their administrative costs were only 2% meaning that 98 cents of every dollar donated went toward one of the service projects. And with all of the help from their volunteers that added up to about $980K worth of services provided from the $140K worth of cash donations received! If you would like to volunteer, donate to or just learn more about Military Missions In Action please visit their web site or email Michael Dorman directly at mdorman@militarymissionsinaction.org.