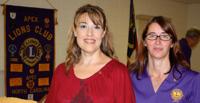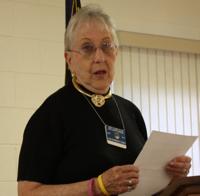 We had a busy meeting tonight! First, we had a new Lion installed. Our newest Lion, Wendy, is pictured on left along side her sponsor, Lion Bekki.
Welcome to the Apex Lions Club Lion Wendy!
We also learned about this year's Environmental Photo Contest from Lion Barbara, District Chairperson for this year's photo contest. The rules of the contest are as follows: The photo must be an original, unaltered, black & white or color photo without people in one of the following categories: Animal Life, Landscape (urban or natural), Plan Life, Weather Phenomenom, or Protecting our future with trees (photos of trees & the vital role they play in our communities). Judging will focus on originality, artistic merit and portrayal of the environmental theme. Please send your photo sumbissions to Lion Barbara Faber at 1105 Maple Ave, Apex, NC 27502. For questions please email her at giltbarb@msn.com. The deadline for submissions is December 31, 2012. Happy shooting!