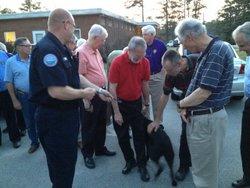 Thank you to our speaker this evening, Jack Thorpe and Bella from NC CERT (NC Canine Emergency Rescue Team). NC Cert is a 501(c) corporation serving North Carolina and the surrounding states providing highly skilled search & canine teams 24 hours a day. They respond to requests from law enforcement, emergency management and other official agencies in time of disaster, drowning and missing person searches. Their services are at no cost to the victims' families or requesting agency. NC CERT's members at all volunteers.
We were lucky to see Jack and Bella, his German Shepard and canine partner, do a variety of demonstrations from obedience to a search & find. The training of the canine can take 4 years. They get certifications begin with obedience and AKC's Canine Good Citizen and progress into the more rigorous training to meet the strict standards for specific training like tracking, wilderness, cadaver and water cadaver. In order to maintain their skills ongoing training & continuing educations are a must. Often times this is more than 50 hours a month.
The services these volunteers provide is invaluable to the agencies and victims' families and they do so without any funding from the government. Thank you to Jack & Bella and all the members of NC CERT!!