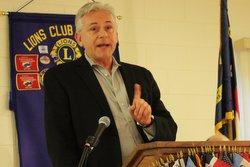 Our guest speaker this evening was the new Executive Director of the Apex Chamber of Commerce, Stephen Xavier. Stephen is originally from Providence, Rhode Island and currently lives in Chapel Hill but plans to move to Apex in the next few months. He is the author of more than 40 articles in business publications and a former President and CEO of a consulting firm. Stephen was called in as the interim Executive Director in January after having done some consulting work for the Apex Chamber in the preceeding months. Later, in April, he was hired permanently. He shared with us some perspectives of Apex from an ousiders point of view as well as some of his thoughts for how he will work to improve things. His focus will be on increasing the profile of the Chamber within the business community. This work has already begun with visits to business owners to solicit their feedback. The Chamber will also work on imrpove relations with non-profits and other volunteer and community service organizations. And, of course, the chamber will focus on Economic Development. One of the ideas he would like to pursue is to start with some incubator level businesses much like what Durham did some years ago.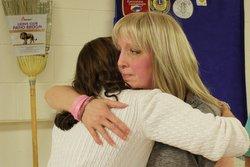 We also had the pleasure of presenting Karen Faber with a check for part fo the proceeds from the Fish Fry. Karen is a single mom and a cancer survivor who has had a very difficult year. She had surgery, went through chemo treatments, was out of work and struggling financially and then lost her dad, Lion Gil Faber, on top of it all. She was very thankful and appreciative of what we have done to take care of her in her time of need. She is pictured her hugging Lion President Bekki Bennett who presented her with the check.
Finally, we got a return visit from Nathaniel. Nathaniel was doing a school project and decided to make recycling eye glasses the focus of his efforts. He visited us a few months ago and informed us of what he was doing. He came back to give us an update and is pictured here with Lion President Bekki Bennett with the boxes of glasses he brought us to be recycled. He collected over 100 pairs in total! We think he has a very bright future as a Lion some day!