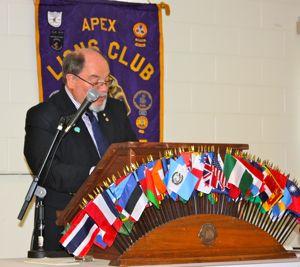 We actually had two programs this evening. The first one was about the work that NC Lions do to help boys and girls in need and the second was to learn about an opportunity to help fight cancer.
First up was Lion Gene English who spoke to us about the Boys and Girls Homes of North Carolina. It all began in 1954 when Mr. A.D. Peacock found a desperate family struggling to survive. He took action immediately and saved seven cold, hungry and penniless siblings on the brink of starvation. Since then they have been providing a safe haven for young people who have been removed from their homes due to abuse or neglect, offering temporary placements for children in crisis, advocating for children by way of adoption services and forever families, and continuing to care for vulnerable kids with the same conviction and passion as Mr. Peacock did in 1954.
The North Carolina Lions started supporting this wonderful organization in 1959 and build the second cottage which was completed in 1960. Since then the NC Lions Clubs have continued to be one of the largest financial supporters.
Many of the former residents of the Boys and Girls Homes of North Carolina have gone on to have very successful lives. In May of 2013 they produced 8 High School graduates and 5 of them went on to college. This level of success has been consistent for many years. In fact, the current CEO and President, Gary Faircloth, was once a resident there. The Apex Lions Club proudly supports this organization every year.
We also had the opportunity to learn about the American Cancer Society's Relay For Life program from Ms. Ashley Wickline (ashley.wickline@cancer.org). The Relay For Life is the signature fund raising event for the American Cancer Society. But it isn't like any relay you have heard about before. Rather than being a relay race which involves running on a track, this Relay For Life movement features community and campus events that offer an inspiring opportunity to honor cancer survivors, promote how individuals can reduce their cancer risk, and raise money to help end cancer. Teams are formed and each person on the team commits to a goal of raising $100. This is done in a variety of ways including selling luminaries and torches. The south wake relay will be held on May 16th and 17th of 2014. The event is symbolic of the journey of a cancer patient. It starts at night (getting the news), continues on through the night (tough time fighting the disease) and ends in the morning when the battle is over and the survivor has hope again. Ashley asked us to consider pulling together a team for the event this year. Would you like to join us?