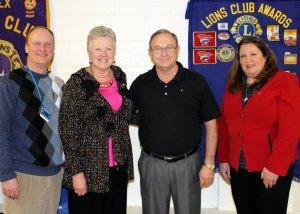 The theme of this evenings meeting seemed to be growth. Both in terms of membership to our club as well as regarding traffic in the area.
The first order of business was to install two new members into our club. Past District Governor Wayne Faber performed the installation ceremony for new Lions Bill Lemon and Sandy Johnson who were sponsored by Lion Jen Ferrell. We are very excited to have Lion Bill and Lion Sandy join us and look forward to working side by side with them at our upcoming events like the Fish Fry in March. Pictured here (l to r) are Lions John Lynde, Sandy Johnson, Bill Lemon and Jen Ferrell.
Our guest speaker for this evening was originally going to be Tony Tata, but he had a conflict. In his place we had Chief Deputy Secretary Nick Tennyson and Division Engineer for Division 5 Joey Hopkins. As Chief Deputy Secretary, Nick Tennyson is responsible for providing oversight and integration across all NCDOT operational and support functions. After service as an officer in the Navy, Nick began a career as a home builder and developer, later transitioned to work with trade associations such as the Greater Durham Chamber of Commerce. Before joining NCDOT he was an executive vice-president for the Home Builders Association of Durham, Orange and Chatham counties. Nick served as mayor of Durham from 1997 – 2001 and co-founded the Metropolitan Coalition of Mayors with Governor Pat McCrory, then mayor of Charlotte. Nick also served as Commissioner of the Division of Motor Vehicles for a short period.
Nick shared some insights about the North Carolina highway system with us. For example, there are no county funded roads in the state. All roads are either State Highways or Municipal roads. That means that the NCDOT has a bigger job of maintaining roads all across the state compared to how many other states fund roads. He also shared some of the challenges that the NCDOT has to contend with. They have to plan road building projects for peak hour usage which drives the cost of projects up. And it is quite a challenge to simultaneously plan for future growth and maintain the 80,000 miles of existing state highways on a limited budget. The general public perception is that roads should be provided and maintained by the state but that at the same time people think that our gas taxes which pay for those roads are too high. This is partly due to the way we pay for roads in NC and not having any county level funding. Nick spoke about Governor Pat McCrory's NC 25 year vision for transportation and connecting key areas of the state better, as well as connecting us with our neighboring states. There is a web site at: http://www.NCVision25.gov Today the NCDOT announced the Draft Transportation Improvement Program which provides $15 billion over 10 years, but that still only addresses 20% of the identified needs for state transportation in that timeframe.
In 2013 there were some changes made to the way funding of projects is done in NCDOT.  The old law called the Trust Fund Law or Equity Formula of 1989 was desperately in need of some updates.  These changes have made great improvements and this year we will have approximately 3 times as many projects as would have been possible with the previous system. But, even with these improvements, it is still not possible to keep up with the demands so prioritization is paramount. It was good to hear that there is some work being done to improve the efficiency of the system, though.
Joey Hopkins, spoke about how Division 5 (which includes Wake County) is getting more funding now with the new law change and also explained how funding is done at the sate level, by region and also at the division level.  Then he shard some information about some of the ongoing projects in our area.  Joey talked about how the Mayors within Wake County came together to approve support for the 540 toll road after they understood the NCDOT funding limitations and the potential delays in acquiring funds to fully fund 540 without tolls.  Approximately a year from now they'll know where the extension to the toll road will be.  Construction is set to begin in 2018 around the Highway 401 area. Joey mentioned plans for widening parts of I-40 in Johnston County and talked about the designs for the inner belt line (specifically the old section). Upgrading interchanges near the airport and Brier Creek area and parts of Durham are also in the works. Even parts of Apex will see some improvements to lanes on Highway 55 with two left turn lanes coming around 2017. And the Laura Duncan, Lake Pine and US 64 lights will become interchanges near the new Costco sometime around 2022.
There was some Q&A which centered around the Mass Transit / Light Rail proposal for Wake County, questions about the need for it and how it would be funded and dealing with the EPA. Overall, it was a very informative presentation and we could have gone even longer with the Q&A but we had to stop before we convinced them to add more toll road projects! Special thanks to Nick Tennyson and Joey Hopkins for visiting us, sharing the plans and answering our questions!