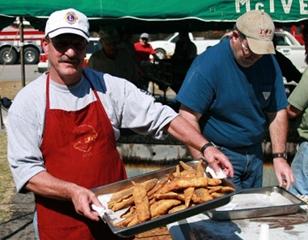 Apex Lions Annual March fish fry is well known in the Apex Community.  Annually for over 25 years people have gathered at the CC Jones Building on Holleman Street to enjoy Fried Fish, hush puppies, cole slaw and boiled potatoes prepared by the Apex Lions. From 11 am until 7:00  pm one can get the best plate of fish and all the trimmings, knowing that the proceeds will go to make the Apex Community a better place to live and raise families.  Each year the Apex Lions choose a local need and focus the profits toward that need. In addition the Boy Scout Troop also sells tickets and the proceeds from their ticket sales are dedicated to the Scout Troop Building Fund. There is a current project ongoing to expand meeting space at the Scout facility located in J C Park off highway 55.
The Western Wake Crisis Ministry in Apex will be the prime recipient of our annual Fish Fry proceeds in 2012. We encourage you to come and have a great family lunch or dinner on March 16. Know that you will get a great dinner of Fried fish, coleslaw, boiled potatoes, hush puppies, drink and dessert all for only $8 and that you are supporting a great community support activity at the same time. Tickets can be purchased from any Apex Lion Club Member or call Horace Johnson 362-5876.
 
Meals will be served from 11 am until 7 pm at the CC Jones building on Holleman Street in Apex. Local delivery orders can be arranged by calling 362-5876.
Eat in or Take Out – your choice. Child (up to 8 yrs) plate are also available for only $5.
Volunteers are welcome to join in this annual community fundraiser project. Call 362-5876 if you would like to work at this event.  Come support the Lions and have a great fish dinner on March 16. It is a great place to bring the family and friends.