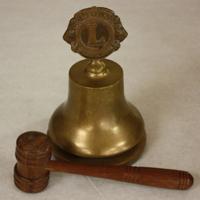 Apex Lions Club meets on the 1st and 3rd Thursday nights at the CC Jones Community Building at 309 Holleman St in Apex. Meetings open promptly at 6:45 Pm and close at 8 PM. Dinner is served at each meeting.
Lions are an international service organization, founded in 1917. Today the Lions clubs represent the largest service club organization in the world. The Apex Lions Club was chartered in 1937 by a group of local business men who wanted to make APEX a better place to live. The charter club members included a teacher, lawyer, doctor, postmen, druggist, dentist, grocer, auto dealer, railroad agent, mayor, banker, garage owner, and others who saw a need to come together and serve the local needs of the community.
Now, the Apex Lions Club membership is much different but with the same objective. Today's members include business men and women, husbands and wives, young working men and women and retired seniors all working together under the Lions motto. The Apex Lions Club meets at 6:30 pm on the first and third Thursday of each month in the CC Jones building, on Holleman street in Apex. Each meeting has a buffet dinner and a speaker from the area to bring a short message of interest to the club. COME BE OUR GUEST FOR DINNER AND SEE HOW YOU TOO CAN BE A LION AND MAKE APEX A BETTER PLACE TO LIVE. The Apex Lions club has a focus on the sight impaired and diabetes along with numerous community projects in and around Apex. Over Ninety percent of the funds raised by our club go directly to worthwhile causes in North Carolina. Apex Area High School Scholarships, Eye Exams, Glasses, Western Wake Crisis, Tammy Lynn Center, Apex fire department, hearing aids, Braille readers, Apex Boy Scout Troop 209, Cub Scout Pack 312, Apex Police Explorer Post, Adopt a Highway ( Green Level Church Road) and a new Leo Club at Panther Creek High School are local community actions supported by the Apex Lions Club. The club has several fund raising activities that support their projects:
| | |
| --- | --- |
| State Fair Food Concession | Apex 5 – K Run |
| Annual March Fish Fry | Apex High School Relay |
LIONISM is about men and women committed to making their community and the world a better place for all. Lions are dedicated to Serve. Would you like to know more about Lionism? Click here to find out how.
BECOME A LION – SERVE BY HELPING OTHERS
"HELP MAKE YOUR COMMUNITY A BETTER PLACE TO LIVE"