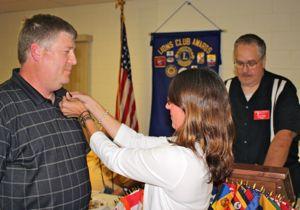 This meeting was primarily geared towards the members of the Apex Chamber of Commerce. We did this specifically because the origins of the Apex Lions Club are with local business people. Back in 1937 there were 31 Apex businessmen who decided that they wanted to give back to the community. They decided to start a Lions Club as a way of doing just that. And on November 18, 1937 in the Apex High School auditorium the Apex Lions Club was chartered.
Since then the Apex Lions Club has faithfully served the community of Apex in so many ways it that it is actually difficult to list them all. We raise most of our money each year at the NC State Fair and we find ways to use that to benefit Apex the rest of the year. We also sponsor the Apex High School relays every April and the money raised there goes back to the Apex HS Track program. We also sponsor Scouting Troop 209 and Pack 312 which has 70 Cub Scouts this year! We support the Western Wake Crisis Ministry, Apex Explorer Post, a Leo club at Panther Creek and a host of other beneficiaries each year.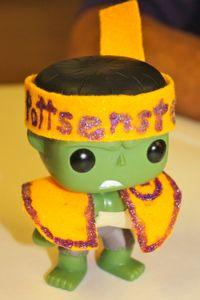 As members of the International Association of Lions Clubs we also support a wide range of causes for the blind and visually impaired. Near Charlotte at Lake Norman we have a camp for visually impaired called Camp Dogwood where Lions and other volunteers assist visually impaired people and help them with activities that they would not normally be able to do. And we have a VIP Fishing Tournament each year in October where Lions help VIPs (Visually Impaired People) fish. It's a really big deal and everyone has a great time there.
We also had the pleasure of installing a new member this evening. Pictured here are Doug Brann being pinned by his sponsor Lion President Bekki Bennett and in the background is Past District Governor Wayne Faber who lead the ceremony. Congratulations and welcome to our newest member Lion Doug Brann.
And, as always, we had a little fun as well. Pictured here is "Pottsenstein". We havea position in the club called a "Tail Twister". Our Tail Twister is Lion John Potts and he is, of course, the Worlds Greatest Tail Twister (it says so on his extra long banner). Anyway, the Tail Twisters job is to make sure we have fun in our meetings. He fines other Lions if we don't follow rules (even if he is making some of them up on the spot) and those fines also go to some worthy cause that the club agrees upon. "Pottsenstein" is this year's "Immunity Idol" which was "decorated' by it's owner. All in good fun, of course.
With literally millions of Lions in over 226 countries around the globe Lions are the largest community service organization in the world. If you are interested in helping your community here in Apex please contact us and visit one of our meetings to learn more about what we do.