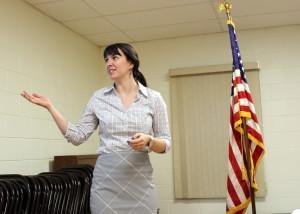 Our guest speaker for the evening was Jennifer Dean.  Jennifer was representing Wake Up Wake County and also Capital Area Friends of Transit.  Wake county is one of the fastest growing counties in the entire US.  We average adding 63 people every day.  And the population is expected to double by the year 2035.  Our roads are already congested and the problem is only going to get worse over time.  In addition to alleviating traffic issues, Transit systems spur economic growth, provide access to jobs and improve economic development overall.
In 2015 public input was sought out in the form of more than 250 public events, surveys, videos and more.  The plan is to make four big moves.  The first one is stronger regional connections in the form of a rail system from Garner to Durham using existing railroad tracks.  Second is connections to all communities which would be achieved primarily though a bussing system between communities.  Third is a frequent reliable bus service which would provide busses on a much more frequent schedule (every 15 minutes, for example).  The fourth and last is enhanced access to transit.
The question that is often asked is: "How are we going to pay for this"?   There are several income sources planned including a half cent increase in local sales tax on non-essentials, registration fees, etc.  The timeline is set to have a referendum on the voting ballot this November 8th, 2016.
For more information visit the following web sites:
CapitalAreaFriendsOfTransit.com