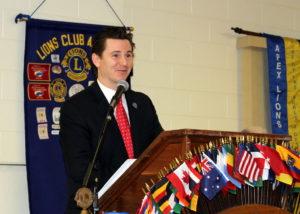 This evening our guest speaker was Pete Tillman from the Veterans Administration. Pete is the Chief of Health Administrative Services at the Durham Veterans Adminstration Health Care System. Pete is a graduate of Northeastern University holding a Bachelors and Masters degree in Public Administration. Before beginning at the VA he spent four years as an adminstrator at the Commonwealth of Massachusetts Department of Mental Health. In 2009 Pete transferred to the Durham VA where he has served as the Public Affairs Officer, Assistant to the Director, Strategic Planner and is now the Chief of Health Administration Services.
Lion Hamilton Martin introduced Pete and used that opportunity to share that his recent personal experience with the VA has been a very positive experience.
Pete began his comments by thanking us for being Lions. He likes our motto: "We Serve!" and can relate both personally and professionally. Then he said: "This is the part of the program where I say that I am from the government and I am here to help." That, understandably, got a good laugh from the crowd. But it really was a fairly accurate summary of his overall message. His passion is to work with all veterans to ensure that they get the best benefits possible. There are levels of benefits available based on some fairly complicated formulas and rules (it is the government, after all).
Pete also shared that although there has been quite a bit of not so flattering news in the press in recent years about the VA things are definitely improving. And, though the access of benefits was clearly an issue, the quality of those benefits was never an issue in question. One of the reasons is that the VA has strtegically placed their centers near quality hospitals (like Duke in Durham, for example).
The important points Pete wanted to make are that there are benefits available, they are easy to apply for and it is definitely worth looking into if you are a veteran. Pete would be happy to help anyone get their questions answered or get the help they need. He stayed for a while after the meeting to handle individual questions from some of our members.
If you would like to learn more about what the Veterans Administration has to offer check out the following link here is a convenient web link.