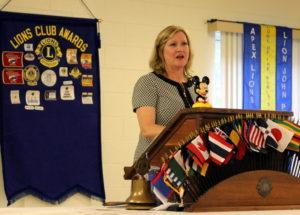 This week our guest speaker was
Denise Wilkie
.  Denise is a retired teacher of nearly 30 years at Apex High School.  She grew up in Zebulon and now lives in Apex with her husband Rick and they have two grown daughters.  As a young adult Denise won an award from the Raleigh Host Lions club which also provided her with a scholarship check to help her go to college so she has very fond memories of Lions.  Denise is currently serving on the Town Council so she provided us with an update of many of the happenings in the town of Apex.  Here are some notes from her presentation: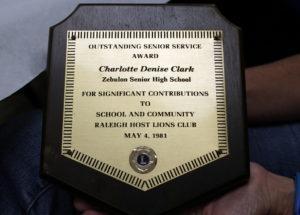 Development:
We still have a shortage of housing.  Approximately 6,200 housing units approved for construction but not yet built.  Some of this will be "workforce" a.k.a "affordable" housing such as apartments and townhouses.
An example of this is a 270 unit apartment community approved behind Costco.
Once all currently approved housing units are occupied, we project our population will grow from its current level of 46,831 to 64,377
Growth is being monitored:  We have had three year average growth rate of 5% with a 4.5% growth rate in 2015
In 2015 we issued 565 residential, 57 multi-family and 41 non-residential certificates of occupancy
We currently have 1.35 million square feet of commercial development under review and 300,000 square feet under construction
In 2015 we added 1,100 acres of land to our corporate limits (all amicable annexations)
Capital Projects:
Public Safety Station 5 under construction – to be completed later this year

Apparatus on order and personnel authorized to staff this facility
Also, new Heavy Rescue truck on order for Station 4

Parking lot at Lake Pine entrance to the Community Park resurfaced last month
Restroom facility to be completed shortly at the Lake Pine entrance to the Community Park
Work underway to improve Salem Pond park – adding a soccer field and other amenities
Completed installation of artificial turn on Hunter Street Park Field
School Zone Flashing Beacons – installation to begin this month
Apex Peakway and Highway 55 operational improvements – construction to begin this fall
Kelly Road and Olive Chapel Road operational improvements (additional turn lanes) – construction to begin this fall
Lake Pine Drive widening and sidewalk extension – construction plans due this month
Apex Peakway Southwest Connector – In design alternative phase.  Construction likely in 2017
Water line improvements – Highway 55 near Jaycee Park – construction this summer
Water line improvements – Highway 55 & US 1 – construction this fall
Senior Center design team working to finalize building programming, with public input.  Cost figures to be provided to Council this summer
Preliminary design work complete for Pleasant Park – cost estimates to Council this summer
Budget:
Total budget of $102.6 million

$9.1 Million in capital improvements
$8.1 Million in debt service

17 new positions funded with 5 in Police and 4 in Fire Department
In addition, Lion John Lynde was privileged to present the following awards to members of the Apex Lions Club from the District 31S Awards & Installation Banquet:
Lion Wayne Faber: Zone Chair, Boys & Girls Home Chair, VIP Fishing Tournament Chair
Lion Nick Somma: 100% Secretary
Lion Chris Norcross: Membership Growth (+3 last year)
And Lion Tony Gravanda presented Lion John Lynde with an IT Committee Chair award as well as  Sid Scruggs Beacon Of Hope Lighthouse award.