One of the scouts in the troop we sponsor (Troop 209) is a big part of a very special team. He is a middle school student and has an interest in robotics. So he formed a team with students from several other middle schools in the area and entered the team for competition in the First Lego League in Cary.   Their team is called the LunaTechs and they have achieved an amazing level of success.  In fact, they have won several levels of competitions and have become one of 64 teams in the world to enter into an international competition in May.  He has learned the importance of service to the community, perseverance and work hard and credits those things to being a boy scout of Troop 209!  Those skills have also helped the LunaTechs robotics team to make it to the International competition.
The team consists of five middle school students from different schools in the area. They have volunteered many hours this year teaching about science and robotics at schools, museums and libraries. They have built a strong robot, developed a better way to teach moon phases, and learned teamwork skills. The LunaTechs won the 1st Place Champions award at the Regional Tournament and 2nd Place Champion's Award at the NC FLL State Championship. That win earned them an invitation to the Razorback Invitational to compete with 64 of the best teams from around the world. This Championship is being held at the University of Arkansas. They are so excited to have this opportunity to represent NC!  However, they can't make the trip without the help of some sponsors. The money raised will help cover the cost of registration, travel, food, and lodging.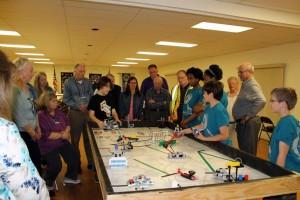 So we invited the LunaTechs to visit us for a meeting and give us a demonstration! As you can see from the picture, the Lions were very interested and amazed at what these young people could do with their robots. For competitions, they are given a course which is a printed map that they need to follow. Then it's up to them to build and program a robot to traverse the course, accomplish specific maneuvers and tasks, and then return to the starting area. Each member of the team is required to participate and in their presentation each member actually got to demonstrate one of the tasks. Their implementation also teaches about the phases of the moon so that is how the team go the name the "LunaTechs".
After the demonstration was over we were able to ask questions and they were able to provide very knowledgable answers. These kids really knew what they were doing. Their coach, one of their moms, was also very knowledgable! In fact, she had even started to learn how to program an Arduino herself (the kids helped teach her, of course).  But how many people do you know that can do that?
We were very impressed with this this group of young people and wish them the very best for their competition in May.  The club donated $100 to sponsor them in the competition and also learned that this gift would be doubled by an anonymous donor. We also encourage individual members to contribute as well.  You can learn more and sign up as a sponsor at the web site: www.lunatechs.weebly.com  And if you have any questions or would like to help in some other way, you can contact them by email at stacy.young@wakerobotics.org
Another one of our scouts was honored at this meeting as well.  Scout Chris Weiss is a Life Scout working toward his Eagle Rank in Troop 209 in Apex.  Scout Chris has work numerous Lions events and was presented with the Lions – Scout Community Service Patch for his outstanding contribution at the 2015 Lions Fish Fry.   He worked above and beyond at this years event.  The Patch was presented by Fish Fry Coordinator Lion Horace Johnson at the April 2 meeting.  He and his mother were our guests at the meeting.  As Apex Lions we are so very proud to sponsor boy scouts and are especially proud of Troop 209 for teaching, leading and guiding our children to become such wonderful young adults.  The character traits that they learn as scouts will not only help them to become better people, but help everyone around them as well.