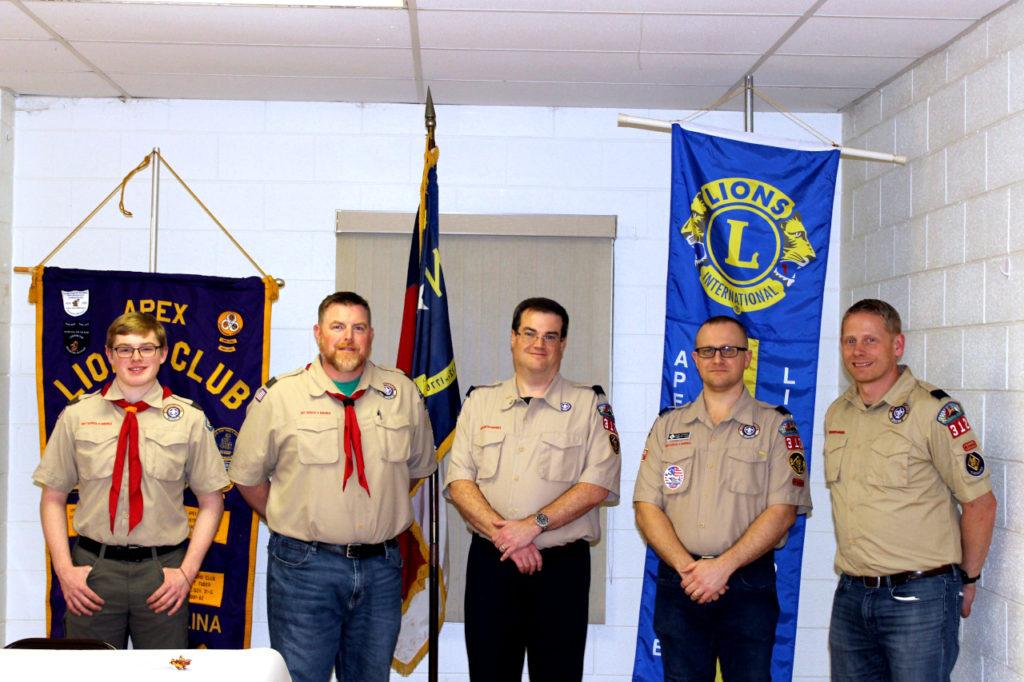 This evening we had our Pack 312 Cub Scout Leaders and Eagle Scout candidate Cole Snyder provide the program.  We also learned that Pack 312 is the second oldest pack in North Carolina with a one-day difference compared to the oldest pack!
We started with our Eagle Scout Project overview from Cole Snyder of Troop 209 in Apex.  His project is to build a stone fire pit at Apex Fire Station #2 in New Hill near Friendship which will be used for proper flag retirement ceremonies.  Cole identified this need when Troop 209 visited the Apex Fire Department 2 flag retirement ceremony hosted by the American Legion, where he saw an opportunity to bring a safe and dignified way to retire the American Flag.  He has already contacted some stone companies and has begun collecting quotes and asking for donation of materials or discounts.  The initial estimate for this project as planned is $850.
Then we got an update on Pack 312 from three of the leaders. Mike Wehrley, Cubmaster of Pack 312 is in his 3rd year in his role and is responsible for overall program operation. His job includes developing skills of members such as leadership and focus. With him was David Gutier who is the Committee Chair so he is mainly the coordinator of finances as well as Ed Blackman who is a Bear Den Leader. Ed and his den of Bears partnered with our Lions Club for a Roadside Cleanup project not long ago which was a huge success and quite an effort!
These three leaders shared how they have not just kept the Pack alive during Covid, but actually grew the membership and used the situation to their advantage! They were able to do a pretty good job bringing their numbers up. During Covid the membership got to the mid 30s and they were lacking in leadership. But through some aggressive and active recruiting efforts they now have over 50 members and are in much better shape with involved parents as leaders as well. This year Pack 312 even received the Gold rank in their "Journey To Excellence" program! Great work!
Their biggest fundraiser is popcorn sales. Selling popcorn door to door they have sold $8,000 worth of popcorn (that's a lot of popcorn)! That yields about $5,000 for the Pack. They meet 2 nights a week – three dens meet on Tuesdays and two dens meet on Wednesdays.
They like to stay very active, too. A typical year includes camping trips in the fall and spring as well as one bigger trip in the summer (like the USS Yorktown, for example). And they go hiking regularly in addition to the other events like Pinewood Derby, Rocket Launches, and camping on the Durham Bulls outfield amongst other things.
A scout is always helpful: This year they went to clean up part of the adopt a highway that we host, they had 7 scouts cleaning up on a Saturday morning and they collected a truck load full of trash!
Mike Wehrley, Pack 312 Cubmaster said that "Scout's have a philosophy of Service" just like Lions!