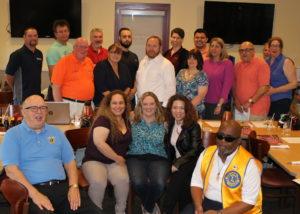 I had the privilege to meet some of the members of the Wake Southwest Centennial Lions Club this evening at their second regular meeting. This is an impressive group of people! Their agenda was quite full and they ran a tight meeting which was over in an hour as planned. Many of their members were unable to attend in person this evening because they are out in the community serving. Most of their members are already involved in service one way or another which makes them perfect candidates for Lionism.
They are still in the process of selecting committee chairs but they have quite a few events in planning stages. For example, they are planning a Pancake Breakfast at The Mason Jar, Selling Salamanders baseball tickets as a fundraiser, a table for Hollyfest and the Special Needs Resource Fair and they are even getting access to a vision screening device through Dr. Vito (an eye doctor and member of the club who is purchasing one for his practice and making it available to them). And they are also working on planning their Charter Night as well. Very busy, indeed! But they seem to have a lot of energy and drive to match! And they were very good at brainstorming and coming up with ideas. For example, the question came up about the Christmas parade and several members made good suggestions about how they could be involved there. It was fun to watch them work.
When the meeting began Lion President Gwen announced that they had just over 30 members enrolled. By the time the meeting was over they had 11 new memberships forms handed in. So they now hare over 40 members already! Anyone that joins between now and the end of June (or Charter Night whichever comes first) will be considered a charter member there is no telling just how big the club will be by then.
One item that came up during the discussion was a banner. I spoke up and suggested that the Apex Lions Club (as sponsoring club) would most likely take care of that for them. They did retrieve the bell and gavel from the former Holly Springs club and had that at the meeting.
They also talked about their online and social media presence. They already have a Facebook page and a Twitter account and post to several of the local Holly Springs Facebook pages. They are also in the process of creating an Instagram account and are really focused on attracting younger members. It will be great to see how that works out and what we can learn from this as well. They will create an e-Clubhouse site until they can afford a proper web page as well. It's exciting to be involved in the birth of a new club and this one has a great deal of potential.
In Lionism,
Lion John Lynde
Secretary, Apex Lions Club