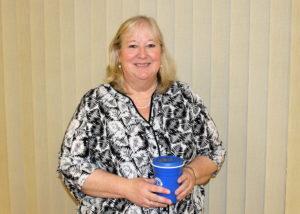 This evening was Melaney Stein from the North Carolina Department of Health & Human Services Division of Services for the Blind (DSB). Melaney is one of two DSB social workers for all of Wake County. That's a lot of area for two people to cover! Melaney began as a social worker for the blind on January 17th not long after her counterpart Christine Harrington began on January 3rd. She is originally from Louisiana but moved to Raleigh in 1984. In 1985 she began working at the Raleigh Lions Clinic where she worked for 15 years. After that she began at DSB and held several other positions all in relation service to the blind as she moved into more managerial roles over time. Her desire to get out of management roles and back to individual one on one service lead her to take the role as social worker at DSB where she is now.
Her view of the DSB Independent Living Service Program is that they provide essentially four types of service:
Independent Living Services – This is what she and Christine spend most of their time doing. They have approximately 230 cases between them at the moment. These are people who need some sort of independent living service. They are also people who have low income or subsidy situations but it does not have to be. They take about five calls per day for people in these situations. More and more common is the situation where someone over the age of 65 is losing or has lost their vision due to macular degeneration or diabetes. In order to provide services the agency does need a recent medical report and does confirm the qualification based on vision assessment. The needs can be pretty much anything but often are related to Money management, home (cleaning) management, Grooming skills, Kitchen skills, even how to eat. You might be surprised at how many blind people will not eat in public. One of the Cary Lions, Larry Schlesinger, also works in the field and teaches classes for things like this. Melaney frequently refers her cases to him. Under this program there are times when she will be able to make purchases of items to aid the client such as a talking clock, for example, when the funds are available and there is a legitimate need.
Medical Eye Program – This is a program that does have a financial qualification as well as a medical one. A person needs to be near poverty level to qualify. It can be used in situations where a person needs surgery and has no medical insurance to cover it.
Eyeglass calls – When clients call who need new eyeglasses and cannot afford them Melaney will often turn to the local Lions Club to seek assistance from us. One thing she noted was that every club has a different process so it can be a bit difficult for her to know the best way forward but she manages and most clubs (including Apex) are very accommodating. She is very thankful for that!
Cold calls – Sometimes people just call to get more information or to get assistance without a case. For example, Melaney is often called to help fill out a Camp Dogwood or VIP Fishing tournament application and she is always delighted to handle small things like that. In fact, it is Camp Dogwood application season now :-). She loves being an advocate for the blind when it comes to things like this.
The NC DSB does not receive any federal funding but they do, of course, get state funding although it is limited. In fact they have already been instructed to stop purchasing items this year. However, good relationships with other organizations like area Lions Clubs and other agencies enable them to get access to additional help by referrals. For example, Melaney recently assisted one of her cases in filing the request for eyeglass support from our club and we are handling that now. Similarly, she requested that if we know of anyone who might be able to benefit from their other services we should refer them to the DSB. We can be a resource for each other going forward. It was wonderful to learn some of the services that are available through the DSB so now we have a much better idea of what is offered and when it makes sense to make a referral.
If you would like more information you can check out the DSB Web site here or contact Melaney directly at:
Melaney Stein
DSB Social Worker for the Blind, Wake County
220 Swinburne St., 3015A
P.O. Box 46833
Raleigh, NC 27690-2016
919-250-4690 (Office)
919-212-9210 (Fax)
Email: melaney.stein@dhhs.nc.gov