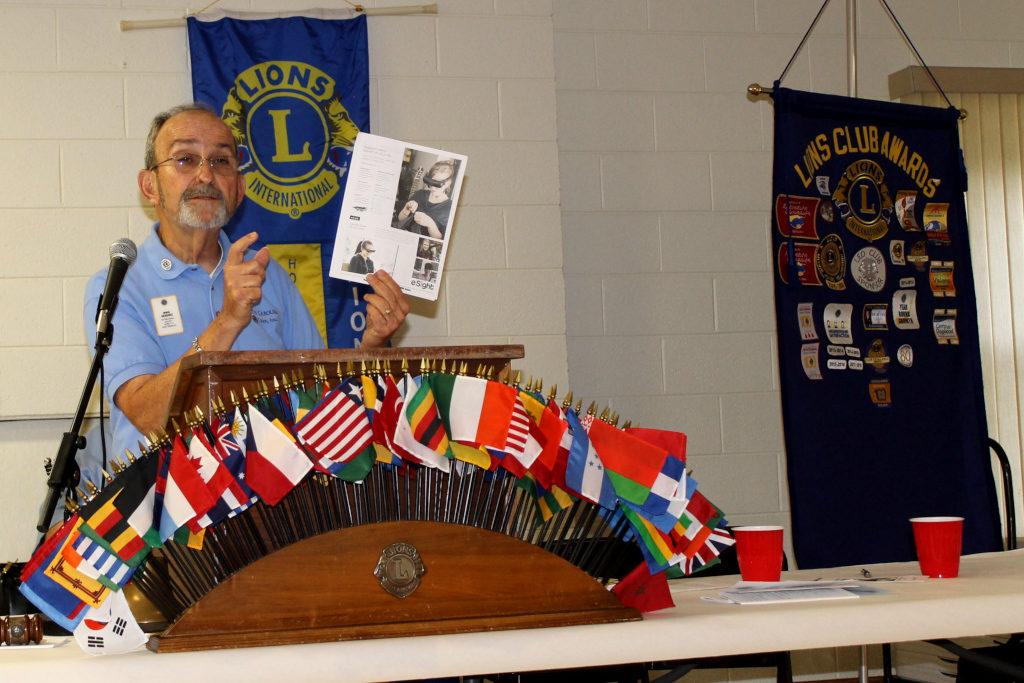 Our special guest speaker for this meeting was Past District Governor (PDG) Irwin Siegelwax. Irwin is the Global Membership Team Chair from District 31N. This was a rare opportunity to hear from a chairperson from another district so we are very appreciative of his willingness to travel and share his message. PDG Irwin transferred to the Calabash Lions Club in 2005. Prior to that he and his wife Linda had been members of the Rockaway Township Lions Club in New Jersey since 1999. He has served in every position except club secretary and has won many awards including Lion Of The Year in his clubs in New Jersey and North Carolina. Membership is his passion and that is why he came to speak to us this evening.
Some memorable items from the presentation:
The average age of Lions may be getting old but there is a great quote from a recent Lions Magazine article that says: "We may be old but we are not tired of serving!"
In 2017 Lions Clubs International was nominated for a Nobel Peace Prize. Very few organizations can make that claim!
He recommended that each club design their own unique membership brochure or flyer and have a sheet with contact information on it so people can contact you for more information
At events have a signup for a Free Lunch raffle. Collect information to contact the winner and invite everyone that signs up to attend a meeting (when you contact them again later). Of course – you DO actually have to have the free lunch as well so maybe everyone can win?
Collect contact information at all events. The example was a club that had a successful bowling event and had about 90 attendees. The numbers would suggest that if you invited all 90 to a meeting maybe 14-15 would actually attend. And of those maybe 4 or 5 would actually join the club.
The moral fo the stories seemed to be: Take the next step and be intentional about asking everyone involved in the events to join.
Another suggestion was to have a zone of clubs join together and contact as many blind and low vision people as possible and schedule to have someone bring an E-Sight device to demonstrate and test with that population. We have several great success stories including Dr. Mary and a 6 year old who was able to see his mom for the very first time by using this device.
Remember: Things change. We need to be flexible and try new things. For example, most people do not realize that Lions Clubs is not men only any more. In fact, we are about 70% men and 30% women already. The goal is to be 50% – 50% by the year 2022 which would be exactly 100 years since Lions Clubs first began in North Carolina.
He also briefly spoke about Membership Events and left some material for us to look through later. These events would be something that would be done twice per year and we would focus the meeting on things we do so potential new members can learn more about our amazing organization and purpose.
Please call members when they miss a meeting or two. Retention of existing members is very important as well!
Try different things! For example, maybe try a limited raffle. That is where you limit the number of tickets so the chances are higher of winning. Then have the actual drawing at a meeting and invite everyone who has a ticket to be there. This is another opportunity to tell them about your club and activities and do some recruiting.
Finally, he left us with some acronyms:
FAIL = First Attempt In Learning
END = Effort Never Dies
NO = Next Opportunity
Don't give up! We are an amazing organization doing wonderful things for our communities and humanity worldwide. We need to find ways to tell everyone who will listen. When people realize who we are they will want to join and be a part of our service as well.