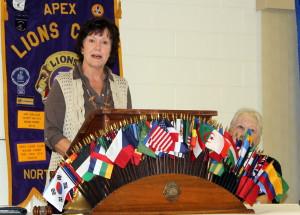 Our guest speaker this evening was Becky Young, Mabopane Foundation President. Becky first visited Mabopane, South Africa, in 1998 on a mission trip. There, she found two partnering shelters striving to serve poor and disadvantaged children and provide for their basic needs with little resources. Becky's heart was touched by the many volunteers who gave genuine love and care to the children. But more than that, Becky was touched by the children themselves because in the midst of such despair, they had joy in their lives and approached every day with a smile. Becky knew that these children had been told they were loved and that there was hope.
Becky shared with us how that experienced touched her so deeply that she knew she had to do something to help. She saw the potential in the children and began to pray about how she could invest in their lives. Eventually, with the help and support of many, Becky launched the Mabopane Foundation in 2003. Mabopane Foundation, is a North Carolina based nonprofit organization was created in 2003 to provide shelter, food, clothing, and education to orphaned, abandoned, abused, or otherwise disadvantaged children in Mabopane, South Africa. Situated in the northwest province of South Africa, Mabopane is a poor and industrialized township neighboring the cities of Johannesburg and Pretoria. Millions of people have settled in the Mabopane area with hopes of finding employment. But jobs are scarce, poverty high, and disease rampant.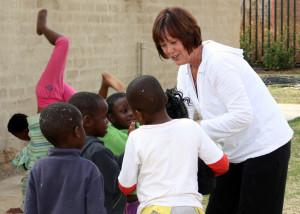 Becky's passion and vision for providing food, shelter, clothing, and education for disadvantaged and orphaned children has been caught by hundreds of people. The Mabopane Foundation Board working closely with Becky has provided help to hundreds of children over the years, assisting with shelter housing, electricity, water, gas, school fees, uniforms, medicine, food, continuing education, and job skill training. This support has been very conservative and in some cases, has not been able to meet all the needs. Thankfully, recent assistance from the South African government has helped to enable the shelters to better provide for the children.
Through the years, God has shown the Mabopane Foundation and other ministry partners the immediate need for more permanent safe housing. A great amount of time has been given to researching the best way to capture the vision in a realistic, cost effective way. Our "Building Together" campaign has been launched and the exciting news is that construction of the Ya Bana Children's Village has been started through the hands of many people in United States and in South Africa that share the same passion as Becky to see this project through. Ya Bana Village is a gated community for children located in Winterveldt, a Mabopane suburb, and includes small cluster homes, each able to house 6-8 children and a "house mom" to give children a real sense of security and offer many a first glimpse of what family life is all about.
The dedicated volunteers who give tirelessly of their time, both here and in South Africa, combined with the resources of those who pray and contribute, have had a positive impact on hundreds of children. The love of Jesus freely shared has enabled many to develop their own sense of purpose and belonging. The educational opportunities that are available have given children options for their future and allowed them to set goals and have dreams. Together, lives are being built that are purposeful and productive.
They also accept donations and have "yard sales" to raise money for the foundation quite regularly.  To learn more about the Mabopane Foundation, visit the website at: https://www.mabopanekids.org/