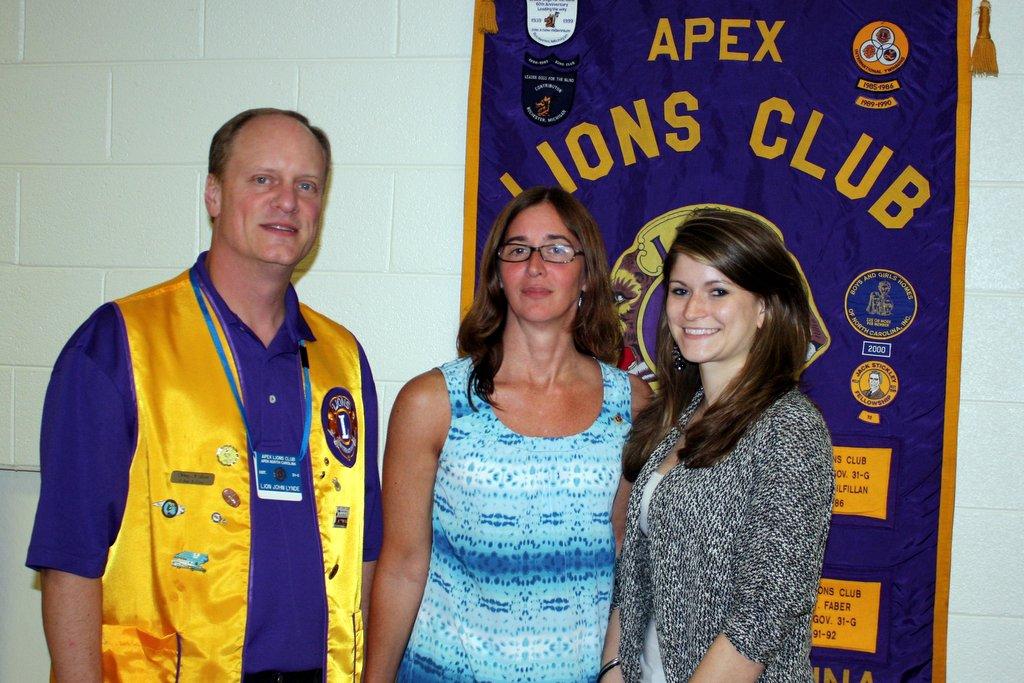 The first order of business at tonights meeting was the installation of our newest member, Sarah Stephenson.  Pictured here are Lions John Lynde and Bekki Bennett (sponsor) with newest Lion Sarah Stephenson.  Lion Sarah is full of energy and excitement and plans to get involved right away with our new Diabetes Awareness committee. She will use her professional skills to help us promote a race and find sponsors as well! Welcome to the Apex Lions Club, Lion Sarah!
We also welcomed the Development Director from Habitat For Humanity of Wake County, Melanie Rankin. Melanie provided an excellent program which was both entertaining and informative. She used a very interesting presentation style where she would ask a question to see what we thought. Then she would provide the real answer. Some of our answers were not even close, of course.
Some of the things we learned about Habitat For Humanity of Wake County: The biggest misconception about Habitat For Humanity is that people think they give the houses away. The truth is that families can apply for a no-interest loan and have to meet some requirements before they can qualify to get in a home. The goal of the program is to help families get back on their feet and become fiscally responsible. So they have to spend some time volunteering to the organization and also have to take finance and home maintenance courses to qualify. The results are pretty impressive, too, as the foreclosure rate is only 3%.
Currently, there are about 100 families in Wake County on the waiting list for a home but it is estimated that around 25,000 families are in need of affordable housing. Since being founded in 1985, for Wake County, they have built 475 homes. They have built a total of 17 homes in Apex and just finished building 16 homes on Lynch Street. There have been 74 homes built in Western Wake. They plan to build 42 more new homes and work on exterior home repairs for existing homes in those communities through their "Brush with Kindness" program. They will be building 6 more lots in Apex three in the fall & and three in the spring. And plans are well under way to open a new "Re-store" in the New Horizons & Pelican shopping center off Williams Street.
Little did Melanie know, last year the Apex Lions Club raised money for Habitat For Humanity of Wake County as one of our internal fund raisers. So we were very pleased to surprise Melanie with over $1000 at the end of the evening. And beyond just giving money we'll probably get our too belts on and help build some homes sometime soon as well. So you will probably hear more about this later.
Habitat For Humanity of Wake County
Director, Development
Melanie Rankin
melanie.rankin@habitatwake.org