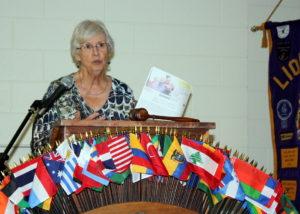 For dessert this evening, thanks to the birthday of one of our members Lion Pat Nemmers (and her willingness to provide a very nice cake to share) we celebrated the birthdays and anniversaries of our members in the month of August.
At tonight's meeting our guest speaker was Joyce Loebsack, Joyce is a Geriatric Care Manager and LIFT Coordinator. LIFT stands for Living Information For Today and is sponsored by the Dignity Memorial network of funeral, cremation and cemetery service providers. A link to L.I.F.T. can be found HERE.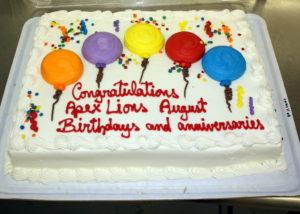 The topic of her presentation was: "Things We Need To Think About As We Age". These topics relate mostly to safety and quality of life. As we age and continue to live active lives we can sometimes forget that our bodies may not be as agile as they once were and our brains may not be quite as sharp as when we were younger. Some things to keep in mind are:
Safety At Home:
Unsafe electrical wiring – Is your home able to accommodate a wheelchair or waker if necessary?
Steps – Consider getting a ramp and make sure you have something to melt ice in the winter
Rugs – Can be a serious trip hazard, consider using non-skid runners or something to keep them in place

Some experts recommend removing them completely
Fall Prevention:
Falls are a serious issue as we age
1 in 3 older adults falls at least once per year. And 20% – 30% of those experience injury

In 2020 the associated costs are expected to reach $55 Billion

Many falls are preventable
Make sure you have ample lighting and switches at the top and bottom of steps
Use rails where possible
Use night-lights in bathrooms and paths there
Keep a flashlight near your bed in case of power outage
When climbing stairs – never hurry or rush and try to carry with one hand so the other is free to use a railing
Remove cords from walkways
Tubs – Use a hand rail or get a bench to assist getting in and out
Consider getting a Lifeline – with a GPS – so you can wear it everywhere and get help if you need it
Financial Issues:
Make sure your passwords are documented and someone knows how to find them
Share important financial information with your family
Make sure your legal documents are in order: Will, Durable Power of Attorney, Healthcare Power of Attorney, Living Will, etc.
Some of the forms can be downloaded from the State of North Carolina web site but working with an attorney is best
Be careful of scams and shady contractors who prey on the elderly
Assessing Mental And Physical Status:
It is natural to develop concerns as we age
If you need help with food preparation consider Meals On Wheels
If you need help with cleaning, lawn care, grocery pickup, etc. there are often volunteer agencies that can help – call Resources For Seniors
Consider alternative housing options – Independent Senior Apartments, Continuing Care Communities, Assisted Living Facilities, etc.
For more information contact Joyce Loebsack at 919-218-5656 or by email at jeassociates@earthlink.net