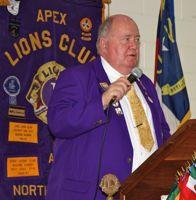 Our guest speaker tonight was Past District Governor Wayne McGowan. We were expecting current District Governor Peggy McGowan, but she was not feeling well so her husband was sent in her place. Wayne presented the message that Peggy has been taking to the clubs for the most part with just a little ad-libbing. Lion Wayne is also the current sitting NC Council Chair over all of the District Governors. The message had essentially three parts which are all related to current International President Wayne Maddens three programs:
1. Measels initiative. The Gates foundation continues to match donations to this program even though it has already exceeded the $1M goal. Pins were made available for purchase at the meeting to help further fund this cause. Measels continues to be a terrible and devastating disease around the world but it doesn't have to be that way.
2. Stopping Hunger. No matter how – we all need to do what we can to stop the worldwide epidemic of hunger. Not long ago several area Lions Clubs met in Raleigh to pack around 18,000 meals for Stop Hunger Now, for example. Those meals all went to Haiti and the accountability has gotten much better over the years so we can be sure they were delivered to folks in need and were used for their intended cause – to feed someone who was hungry.
3. Reading initiatives. Here's something that may surprise you – last year more than 14,000 students dropped out of High Schools in North Carolina! The drop out rate has increased tremendously in recent years. And Wayne, who is a teacher of beginning reading at Vance Granville Community College told us that he currently has two students who are in the 20-21 year old range who have valid NC High School diplomas but cannot read at the 3rd grade level. This is a sad statement about the public school system in NC.
We also had our annual joint meeting with the Fuquay Varina Lions Club many of whom are pictured below.