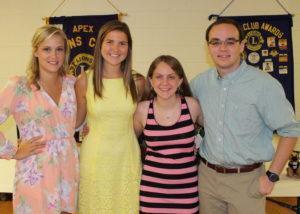 Our first meeting in June had a financial theme woven throughout.  The evening started with recognizing our four scholarship award winners.  Pictured left to right are: Jessica Haynes who will be a culinary student at Wake Tech, Savannah Dupree who will be attending UNC Chapel Hill and plans to choose between Education and Communication degrees, Caroline Dunn who will start her education at NC State in Exploratory Studies, and Zachary Brothers who will be studying Engineering at Cornell in the fall.  This year we had 19 candidates and these were the best of the best according to our scholarship committee.  Congratulations to our scholarship recipients and we hope that our scholarships help them keep their student loans as low as possible!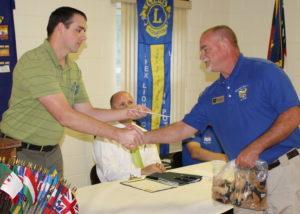 Next we had the opportunity to thank our friends from Citizens Assisting Police in Apex (CAPA).  We are so grateful for their help every year at both our Fish Fry as well as at the State Fair and other miscellaneous times throughout the years.  We like to invite them to a dinner once in a while to thank them and we usually make a contribution to one of their causes as well.  This year, we had the pleasure of presenting CAPA President Richard Brooks with a check for $1500 to sponsor the K9 Heroes Campaign.  Pictured here is Apex Lions President Chris Norcross presenting CAPA President Richard Brooks with the check (and Richard is giving us 3 Rocky stuffed mascots).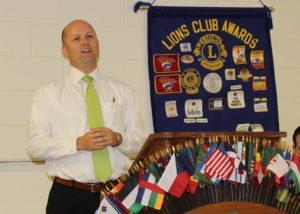 Finally, our guest speaker was Elliot Barton with Edward Jones.  Elliot is a professional financial planner so he began by offering some very useful advice to the new scholarship recipients about to begin their college careers.  First: Stay out of debt, Second: Save money on a regular basis.  This is timeless advice and incredibly valuable if you understand it at an early stage in life while you have time to allow time to work for you!  Elliot then began his regular presentation with a recap of the market situation.  The Dow is up about 2.6% this year and the S%P 500 is up about 2.7%.  This is mainly due to the price of oil having rebounded to about $50 per barrel and a good number of housing starts as well.  The growth in the economy is likely to cause the Fed to increase interest rates from their all time lows very soon and maybe more than once.
Elliot then gave some advice regarding money strategies.  It is important to note that there are two ways to earn money in the stock market.  The first is growth (when a stock goes up in value) and the second is interest (for example from dividends).  In fact, about 40% of the money earned in the markets is from dividends & interest.  His job is to help each individual or family find investment opportunities that best match their needs and risk tolerance.  Everyone is different.  It's also important to have a draw down strategy for when the market goes against you (and it will if you have money invested long enough since the market moves in cycles).  There are typically three kinds of draw downs and different ways to handle those times.  The first is the pullback which is a drop of around 5% in price and happens on average 4 times per year.  The best strategy in these cases is to just wait for the recovery.  The second is a correction which is a drop in price between 10 and 20 percent and happens on average once per year.  The strategy here could be to wait and review your goals and risk tolerance and make sure you have enough cash available in advance to weather this storm.  Finally, there are Bear markets which is typically a 20% or more drop in price and happens usually around once every 4 years.  In this case you could potentially invest even more (your investment is now available at a discounted price so it might be a good time to load up).  It is especially important to hold on and weather the storm in these cases so you don't lose large amounts of your initial capital.
He concluded with the Rule of 72.  This rule says that the time it takes to double your money is 72 divided by the percentage of interest earned annually.  So at 1% your money will double in 72 years, at 2% it takes 36 years, etc.  Current interest rates on savings accounts are very low (usually under 1%) which means it would take approximately 72 years to double your money in a standard savings account.  And with inflation at 2.9% these "savings" accounts are not actually saving your money at all.  That is why it is worthwhile to consider the services of a professional like Elliot.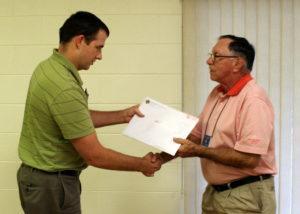 We ended the evening with a very special award given to Lion David Lawrence.  Lion David has been a loyal and dedicated member of the Apex Lions Club since 1986 and has served in many roles over the years including President of the club.  Lion David was awarded a Lifetime Membership to the club for his many years of service.  Congratulations Lion David and thanks for all you have done!