Our first meeting in March is typically a joint meeting of three clubs. The Apex Lions invite the Fuquay Varina and Wake Southwest Centennial (Holly Springs) Lions to join us for a combined meeting for fellowship and fun. As always, this year we had a lot of fun and laughs and learned a few things as well.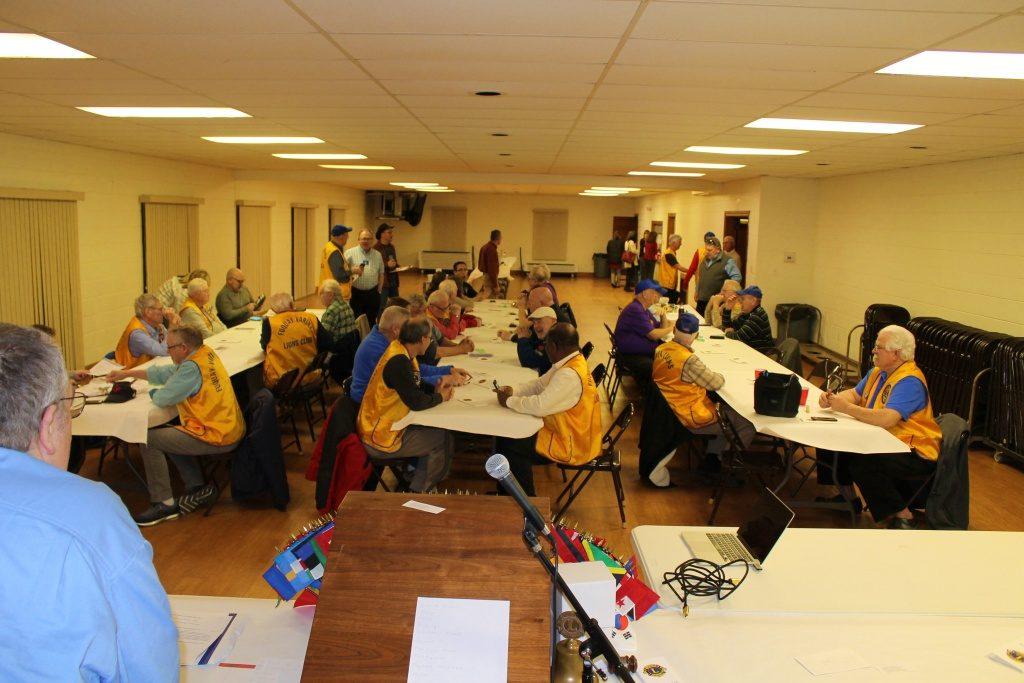 All three clubs made brief presentations of the some recent activities. This is helpful so that we can all benefit from knowing what other clubs are doing and maybe even get some ideas for how we can serve our towns in new ways as well.
Our special guest speakers were Angie Hudson and Tamara Lapsley who are both co-founders of Esteamed Coffee, Inc.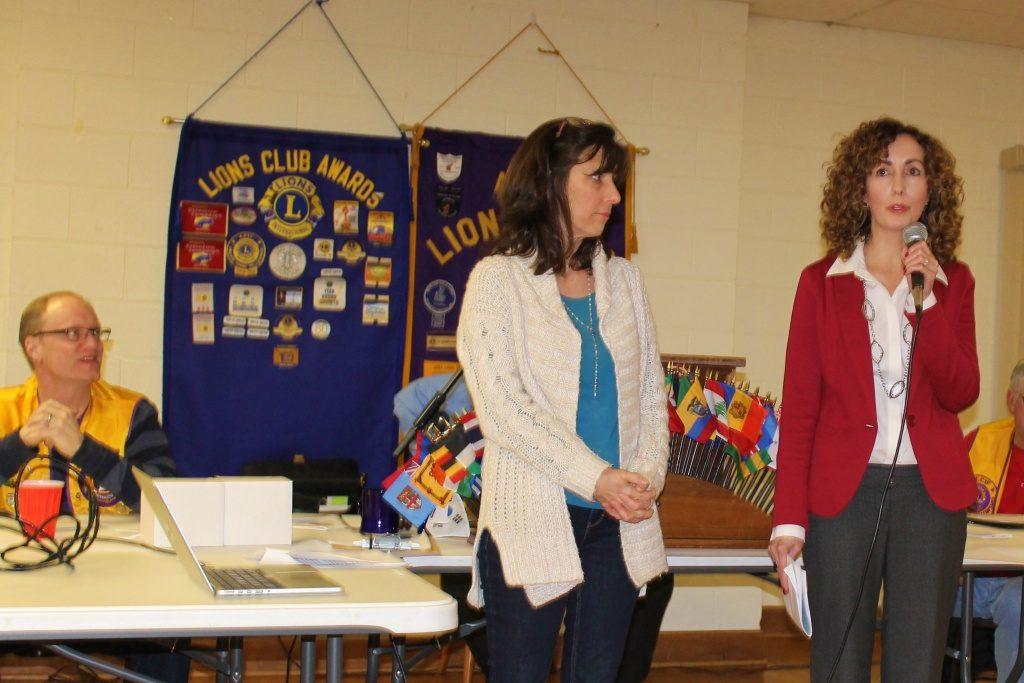 Esteamed Coffee will be a non-profit coffee shop and bakery in the Cary/Apex area that employs people with various disabilities who would otherwise struggle to find meaningful employment. They will strive to connect people in a purposeful, intentional community that enriches the lives of our employees and patrons through their fellowship in a warm, welcoming environment.
They not only aspire to esteem individuals with disabilities through employment and a respected place in our community, but they also endeavor to support their families, the organizations that champion their disabilities, our customers, and our local economy. Esteamed Coffee will be a winning partnership for all involved!
Tamara and Angie presented three stories of examples of people that would be exemplary employees for Esteamed Coffee. The first was actually Angie, herself. When Angie was a young girl entering her college years she discovered that she had juvenile macular degeneration which caused her to become legally blind by the time she finished college. She was forced to stop driving and has not driven a car since. The second was a young man named Austin who suffered a massive stroke while he was a student at Apex High School. Austin was unable to speak for quite some time after that and has struggled mightily ever since. But has been able to recover now to the point where he can form sentences and even runs 5K races. The third example was Matthew Schwab, a person with Downs Syndrome. Matthew desperately wants to show that he can be a productive member of society and has worked very hard as an employee of Chick-Fil-A in Fuquay Varina for the past 4 years to do just that. He is also an advocate and inspiration for others with intellectual and developmental disabilities.
Currently Esteamed Coffee is in their exposure and communication phase. They have applied to become a 501c3 non-profit but that has been delayed due to the recent government shutdown. However, their goal is still to raise approximately $275,000 by fall so they can begin to renovate a shop, hire and train employees and hopefully be open by November.
If you would like to learn more about Esteamed Coffee, please take a look at their web site at EsteamedCoffee.com or email them at esteamedcoffee@gmail.com
Apex Lions Club contributes to CAPA Equipment Fund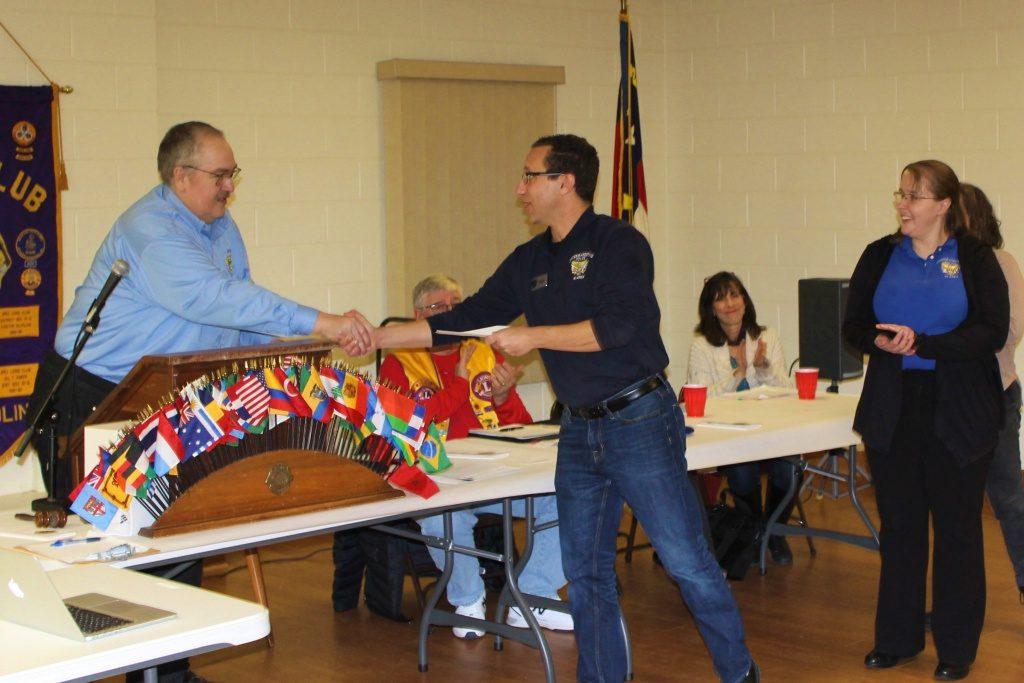 The Apex Lions Club has been a close partner with Citizens Assisting Police in Apex (CAPA) since they started. We have done many joint events over they years and served Apex side by side on many occasions. So when we heard that they needed some financial help with their Equipment Fund we wanted to be there for them. So the Apex Lions presented CAPA president Drew with a check for $1500 this evening. We look forward to continuing to work along side CAPA for many years to come.
Fuquay-Varina – New Member Installation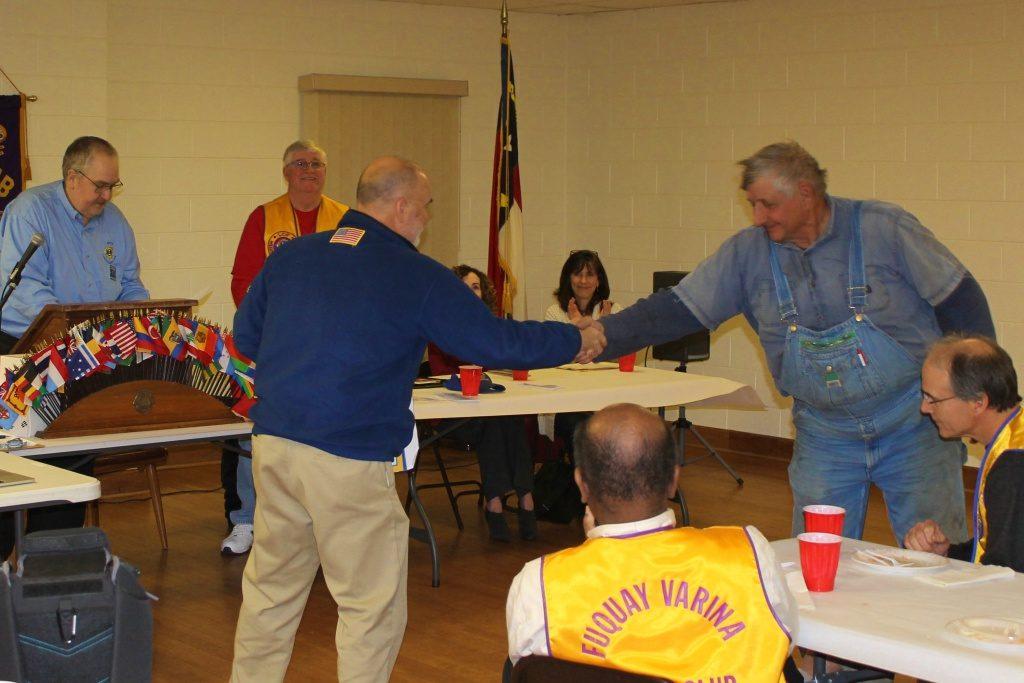 On top of all that – we even had the opportunity to install a new member in the Fuquay Varina Lions Club. Apex Lions Club President and Past District Governor Wayne Faber performed the ceremony. Congratulations to the Fuquay Varina club for adding a new member this evening. What a great time and place to do that! It is always encouraging to see clubs grow and new people commit to serving their local community and give back.