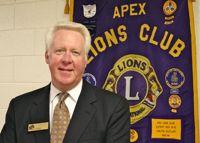 Our December meeting was almost like a continuation of our 75th annual celbration! We recognized of the wonderful folks that helped with and volunteered at the 2012 NC State Fair booth and also had a program presented by the new Executive Director of the Apex Chamber of Commerce, Graham Wilson.
We began with Executive Director Wilson who, although he has only been in his new role a few weeks, has already started making an impact. He worked with the Wake Economic Development to create an incentive plan which was recently and unanimously approved by the Apex Town Council. This is important because Apex was the only one of the 13 municipalities in Wake County which had no documented policy. The lack of a policy was causing issues with our ability to attract new businesses. Since Apex is a bedroom town that currently receives roughly 80% of tax revenue from home owners and only 20% from businesses, it is important that we focus on policies that are business friendly so that we can attact new business and the right kinds of industries to Apex for future development. A more healthy ratio of taxes is 70%-30% so we have a lot of work to do.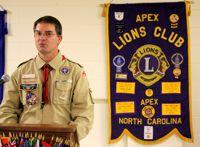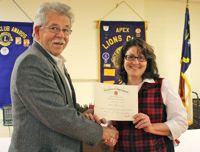 Next we took the opportunity to thank our Troop 209 Boy Scouts who volunteered to help at the Fair booth. We also presented a Certificate of Appreciation to Denise Lah for her work in organizing the boys and scheduling them to work in the booth. She is pictured below receiving her award from Lion Horace Johnson. And Scout Master Tracey Barbour spent a few minutes thanking the Apex Lions Club for chartering both Boy Scout Troop 209 and Cub Scout Pack 312 and for our years of support financially and otherwise. Troop 209 is thriving and will have eleven boys achieve Eagle Scout this year. That is an amazing feat and exemplifies the tremendous leadership that Tracey and the other leaders have provided for those boys. Boy Scouts have gotten some bad press lately, but Tracey assured us that all of our troop leaders are trained and they take the issue of the boys safety very seriously. We can all be very proud of our scouts and future leaders!
Lion Horace also recognized all the other volunteers and workers at the booth, especially all the counter staff, biscuit makers, spouses, friends, LEO's and ASPA. A certificate of appreciation was also extended to Jerry Moore who makes sure that all the mechanical and refrigeration equipment Is in good working order. Last and most importantly a special thanks to all those who supported our efforts and ate with us. To all our loyal customers we truly appreciate your business. Many of our customers eagerly tell us that they have been coming to the fair for many years and always come to the Apex Lions Booth to eat. Thanks to all who made this year a success, we look forward to working and serving great food and P I I I E at the 2013 fair.
We also took the opportunity to present officer Jason Stone of the Apex Police Department with a check for $1,000 for uniforms for the Explorers. This a program which we helped fund initially several years ago when they first got started. We believe in the work that they are doing and would love to see them succeed in all they do. So we are happy to help them get the program going again.
All of the pictures from this event have been uploaded here. You can see full sized images of the pictures in this article as well as many which are not shown here.