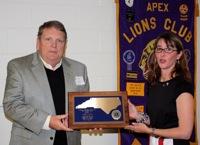 Apex 75th Anniversary Celebration
By M C Lion Horace Johnson
November 15, 2012 Pictures Apex Herald
The Apex Lions Club was founded by 31 local business men who wanted to make Apex a better place to live and to help others.
Apex Lions Club was sponsored by the Sanford Lions Club and chartered on October 7, 1937. Charter Night was held at the Apex High School on November 17, 1937
In 1943 the club, being mostly business men, secured a spot at the N C State Fair. We are very lucky that our founding Lions had the foresight to secure such a long lasting income project for our club. Not only does it provide our Club a great source of funding to support our projects but it also gives us great exposure for our club and Lions activities. Thousands of people get to support Lions projects while enjoying some of the best food at the fair. Especially our biscuits and P I I I E.
2012 marked our 70th year at the North Carolina State Fair.
As the town grew some of the Lions decided to establish a Boy Scout Troop. In 1948 the Apex Lions Club signed on to be the Charter Organizaion for Boy Scout Troop 209. Today, one of our own, Lion Bill Booth, a second generation Lion, is a charter Boy Scout from the first troop established in 1948. Lion Bill's dad, Lion Williams Jennings Booth, was a charter member of the Apex Lions Club.
Let's tie this all together further. The Lions built the Scouts a hut in which to meet. Well that is not all. Lion Jennings Booth, mentioned earlier just happened to be the timber and lumber man in Apex. So guess who provided the lumber for the Scout Hut.
The Apex Lions looked at the Scouts motto of service and realized how similar these two groups are "youth who serve and men who serve." Today we maintain very close ties to our Scout troop and them to us.
The building we are in tonight also has a tie to Lions> A local physician, Dr. C. C. Jones, also a Charter member of the Apex Lions, built and setup a community center for the town to enjoy. So when you go to an event at the C C Jones building or swim in the pool outside, remember, a man who wanted to make things better (A Lion) did just that.
The Apex Lions Fish Fry event has become one of the best supported community fund raisers in our Town. This started out as a Bar B Que and later switched to our Fish Fry. The club in recent years has focused on finding a specific family, individual or organization to receive the benefits of this event. Last year Western Wake Crisis was the recipient of the event
A V Baucom School is named after a Charter Lions and the town Druggist. His drug store as was the, name used back in the day, was located where Anna's
now sits across from the sweets shop which was the town bank back at the time.
Jordan Oil had a father and son charter members. Now Larry Jordan continues that Lion tradition.
Lion James Herndon is another Lion member who's dad Lion Mack Herndon was a Charter member of our Club.
Does this all start to sound like a group of men who cared about their community
That tradition continues with Lions Wayne, Joe'l, Bekki, David and John all following family ties to the Apex Lions Club.
Little things you notice when you dig into history. Of the 31 charter members, there was only one Lion who was not a business person as such. Lion Kenneth Stephens… does anyone remember who he was… Athletic Director at Apex High School. Ever wonder how our club became the sponsor and key supporter of the Apex High School Sports Track Event. Why we have for so many years provided 3 scholarships to graduating seniors.
November 16, 2012 we celebrate 75 years of Lionism in Apex. We honor those 31 men who stepped forward in 1937 and decided they wanted to SERVE, HELP OTHERS and make their community a better place to live and raise their and now… our families.
The Challenge of Apex LIONS – "TO INSURE THAT THE APEX LIONS CLUB IS STOCKED WITH MEN AND WOMEN WHO ARE WILLING TO SERVE AND CONTINUE THIS TRADITION THAT HAS BEEN ESTABLISHED IN ALL THOSE WHO SERVED AS LIONS BEFORE. NOT JUST ANYONE CAN BE A LION… IT TAKE SOMEONE WHO TRULY CARES FOR OTHERS AND WANTS TO MAKE THINGS BETTER FOR ALL. THAT IS The CHALLENGE OF THE APEX LIONS CLUB AS THEY MOVE FORWARD TO FIND THOSE WHO TRULY WANT TO SERVE…
A certificate of appreciation was presented of the Sanford Lions Club as sponsor for the Apex Lions Club. Lion Phil Gurkin, VP of the Sanford Club accepted.
Apex Lion President Hamilton Martin presented the following awards with assistance from Past International Director Lacy Presnell from Raleigh Host Club.
Lion David Lawrence – Melvin Jones
Lion John Lynde – Jack Stickley
Lion Bekki Bennett – Jack Stickley
Lion John Potts was named Apex Lion of the Year
Lion Master of Ceremonies Horace Johnson presented Life Time Membership Awards to Lion John Bryson and Lion Bob McIver
Both of these Lions are long time members having served as Presidents of the club, Lion of Year winners and well known for their work and support in the Apex Club.
We were honored with several of our Lions Widows in attendance at the meeting.
Mayor Keith Weatherly read a proclamation issued in recognition of Apex Lions Club 75 year of service to the Apex community.
The was a great night of celebration, great food and entertainment supplied by the Social Security Boys.