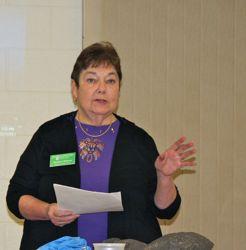 Lion Barbara Beltran, chair of Brighter Visions was our speaker this evening. The Brighter Visions program was previously called "White Cane" but was renamed to better describe the overall vision of the program. Brighter Visions provides services and programs for the blind and the visually impaired. Here are some of the services and programs that fall under the Brighter Visions umbrella:
* Camp Dogwood is a 56 acre recreational facility on Lake Norman that is uniquely designed to serve the needs of the blind and visually impaired.
* Support and Mobility canes are provided free for people who need them
* Educational Grants can be provided for sighted children of the visually impaired
* V.I.P. (Visually Impaired Persons) Fishing Tournament is held annually
* Services and Programs for the prevention of loss of sight
* Mobile Screening Unit travels around North Carolina and provides free vision screenings
* Clinical Eye Research through major universities in North Carolina
* Grants for glasses and recycling of glasses and frames (you have seen our boxes around, haven't you?)
You can read more about Brighter Visions and North Carolina Lions Clubs, Inc. at NCLionsInc.org. And if you would like to support these programs you can make a donation online as well!