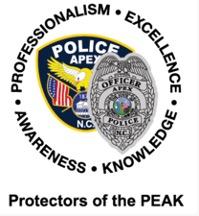 This week our guest speakers were Officer Kenneth Ragland and Officer Victoria Carter from the Apex Police Department. They are partners and are tasked with Community Policing and Crime Prevention programs.
We learned some of the history behind policing in general as well as the philosophy that is applied to make policing (specifically local community policing) as effective as possible. Although Officers Ragland and Carter are the primary Community Policing Officers it is a responsibility of every other Apex Police officer as well. In fact, the success of department crime prevention strategies and tactics depends on all police employees working together in partnership with the community.
Partnerships are formed with local organizations such as: Neighborhood / Business Watch, Homeowners Association / Property Managers, Civic Groups (Lions Club, Apex Newcomers, etc.), Schools (Pre-K, Arts Studios, Public/Private), and Church & Faith Based Organizations to obtain input on department operations and procedures and provide crime prevention and safety information.
We were all very impressed by the number and breadth of programs that are provided. Although some have been difficult due to recent Covid restrictions many are still in progress even if they need to be done virtually rather than in person. These programs include: Neighborhood and business watch programs, Education programs like Lock It or Loose It, Holiday initiatives (Grinch), Security Surveys at homes and businesses, Senior Citizen Services like health fair, senior ID cards, Scam and Fraud services and community well-checks, Child ID cards, Community Outreach programs such as Apex Night Out, Christmas with a Cop, Festivals, Parades, Western Wake Crisis Ministry, WRCAC Emergency and Summer meals, partnering with SHIELD NC to end human trafficking, Special Olympics and more. The officers shared some pictures and stories about past events as well.
Finally, they shared some information about the Citizen Police Academy (CPA) and Citizens Assisting Police in Apex (CAPA) programs. It really is amazing just how much is going on behind the scenes to protect the citizens of Apex. We were comforted to know that we are in good hands.