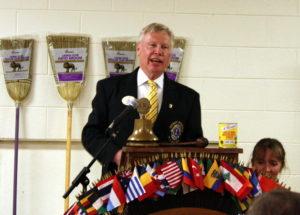 This year represents our 80th anniversary.  It was 1937 when we were sponsored by the Sanford Lions Club and our charter was established in Apex.  For our special celebration we were visited by District Governor Steve McLaurin and Past International Director Lacy Presnell.  District Governor Steve opened our meeting and gave us a great amount of praise for our support of local activities like Boy Scout Troop 209, Cub Scout Pack 312, Panther Creek Leos, CAPA, Western Wake Crisis Ministry and many others.  Then he spoke about what Lions across the district and state do such as clinical eye research, white canes, matching funds for eye exams and glasses, scholarships for children of blind parents and especially Camp Dogwood.  Of course, the Apex Lions Club is a loyal supporter of all of these activities year after year as well.  The message was "Keep doing what you are doing".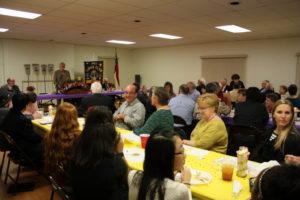 This meeting is also traditionally where we have a recap of the State Fair fundraiser project and we all hear the final results for the first time.  Lion Horace Johnson who is the manager of that event was also our emcee for this meeting.  This year we had the opportunity to upgrade to a new location next door to our old location but twice as large!  While that represented a huge opportunity it was not without its own challenges.  We had a lot of work to do before we could even get started.  We had equipment to move, a lot of cleanup and rearranging work as well.  On top of all that, we had to get used to the new layout and new register where we could accept credit cards for the first time ever.  Fortunately, we were able to get in a few days early and we had plenty of help from some awesome volunteers to get it all done.  We were ready for our initial inspection early and had no problems at all.  And later in the week when we were inspected again both inspectors ate lunch with us afterwards!  We did have some additional expenses this year related to the move.  We purchased a new register that has credit card capabilities, built a dual register stand, built a trash can container, bought a new oven and some refrigerators and other equipment and miscellaneous expenses.
We also provide free meals for VIPs (Visually Impaired People) and this year we provided more than 60 to the students at Governor Morehead School and a grand total of approximately 180 meals for the whole fair.  Even with the additional expenses mentioned we still beat last years proceeds and this year we earned just over $40,000.  We have some ideas already for changes which will be made next year and anticipate that it will be an even better year for us.  These proceeds all go to the programs mentioned above so we are excited about the good that can be done this year!  Lion Horace expressed great appreciation for all of the volunteers we had from our Leos, the scouts and leaders, CAPA, key club volunteers, and family and friends!  Special thanks to Lion Joe'l Lynde who took over the volunteer signups this year.  We could not have done it without you all and look forward to working again with you next year!
Finally, we also use this meeting to present some special Lions with awards for their efforts and service.  This year we presented two Jack Stickley fellowship awards.  This award is named after the first International President from North Carolina and is the highest honor given by North Carolina Lions, Inc.  It is given to Lions who have demonstrated continued humanitarian service.  This year's recipients are Lion Tony Gravanda and Lion Sid Harrell.
The final award of the night is the William Jennings Booth Lion Of The Year award.  This award is named after a founding member of the Apex Lions Club and is given to the Apex Lion who has worked the hardest.  This year's recipient, Lion Joe Salvas, certainly epitomizes this award.  This past year Lion Joe has been involved in virtually every event that we have had from the Fish Fry to Peakfest and he was a key contributor to the work involved in preparing the new booth at the State Fair.  Last year's recipient, Lion John Lynde, presented the award.