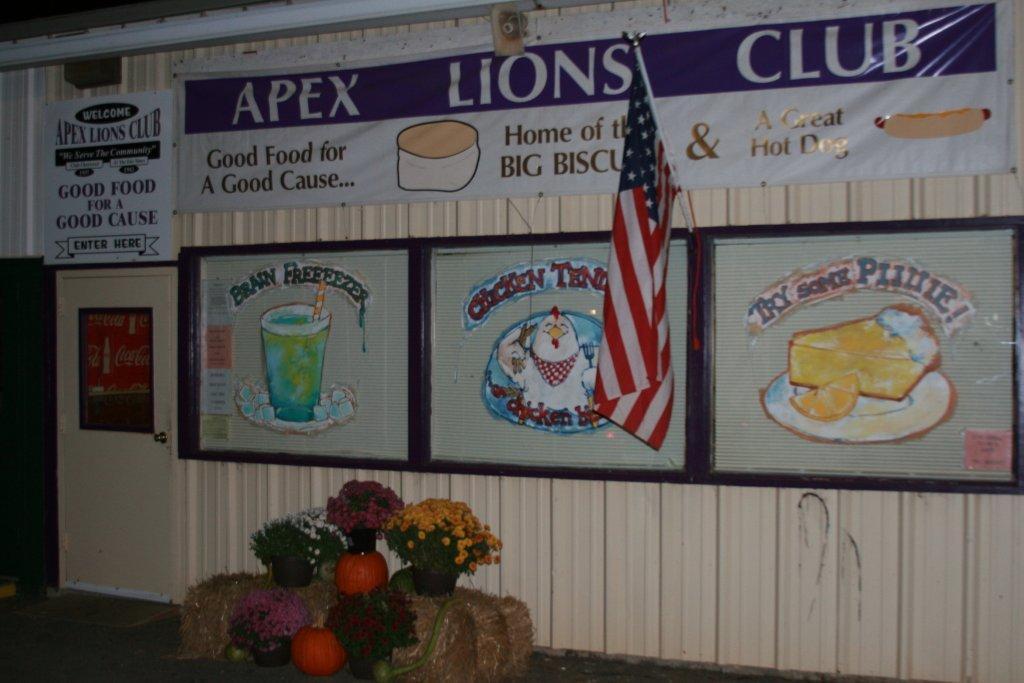 Well here we are less than two weeks away from opening day to the N C State Fair. The Apex Lions have been a part of the N C State Fair for over 70 years. Back in the beginning it was saw dust floors and little round stools to sit on. We have a couple of the old stools on display at the booth. Today things are a bit more comfortable.
n 2017 we moved to a much larger booth next door to our original space. It was rare for one of the spaces to become available. One did, so we were allowed to move. Great things are happening. We are adapting and expanding our menu. We keep the "Pi i i e" man pretty busy as he remains the focal point for all menu offerings. specially the "P i – i – i E" as he says it.
With our expanded kitchen and seating area we are now able to serve our customers faster and with less standing in line time.But we must let you know, the wait is worth it.
Really, our footlong hot dog, we believe is the best dog at the fair with our own coleslaw, onions and chili; you add the mustard and the heat as you choose. People tell us our Premium "chopped" pork BBQ Sandwich or the BBQ plate with Brunswick stew, fries and corm bread muffin top the list of daily offerings.
But then they come back and try one of our daily specials and admit that these too are as good as any they have ever eaten.Louisiana Gumbo, Jambalaya and Louisiana style Red Beans and Rice are our three specials that are offered alternately throughout the fair.
We also added Mrs Fearnows Brunswick Stew to our daily menu, what a hit that has become. We recommend you "kick it up a bit" with some cajun seasoning, if you like spicy? This is served with a corn muffin.
We still make our ever popular homemade vegetable soup. The regulars know this has been on our menu for too many years to recall, over 50 for sure. It gives our heath wise patrons another option yet still provides a taste like no other at the fair. It too comes with a cornbread muffin.
I would be remiss to not mention our homemade Sweet Potato Biscuit "The Yammie" made right in our kitchen at the fair. This item took us a couple years to perfect. Our customer's decided they liked it with Country Ham, so the "Yammie Hammie" was introduced. One word best describes a spicy sweet with the taste of country ham. "Yummy" A must treat! Then we have our family of Biscuits. Early day it is Egg with ham or sausage and cheese. Chicken is right up in the mix as well. Oh, how about Sausage gravy? Or maybe a breakfast plate or a bowl of grits? Are you getting the picture? Apex Lions Club Menu is quite broad from Breakfast thru Lunch and includes Dinner.
Sure we have burgers and fries, chicken tender baskets, regular dogs, nachos, sweet corn nuggets and all kinds of "P i i i E". A huge selection of coke products including Dr Pepper, fresh brewed coffee, Hot Chocolate Cappuccino, Frappuccino, our special Cajun Mocha and many more.
Couple our great food with a warm and friendly staff dedicated to making our customers enjoy their experience at the Fair, no wonder we are so busy.
Our Motto : " Serving Good Food For A Good Cause …Cause Your Hungry"
Over 90 % of funds raised will go to improving the lives of people in need. With a focus on those with sights issues we reach out to bring them needed assistance.
Thanks to all of you, who year after year help us with our Club's mission.