S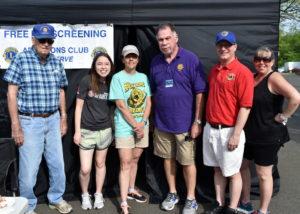 aturday May 5 was a beautiful spring day for Lions to be serving their community. Eleven Lions and a Lions "helper" participated in the annual Apex Peakfest to perform vision screenings, provide information for recycling used eyeglasses, discuss what Lions do, sell Lion brooms and recruit new members.
While we were a bit disappointed that the NC Lions Vision Van previously scheduled had to cancel at the last moment due to mechanical issues, we were still able to our own vision screening camera which is a true asset for our club and community. Although different from the test performed in the vision van and having doctors to exam the eyes, our camera can be used on children from 6 months of age or higher and approximately 40-50% of the 100 screenings performed were on children. They do not have to be able to read letters as in a usual exam, just look at the camera for about 15-20 seconds.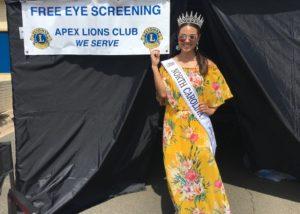 Of the 100 total screenings, about 15% were given referrals recommending they contact an eye doctor for a complete examination. We provided test results for them to take to their doctor.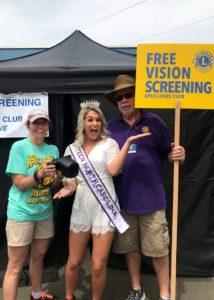 Both Miss North Carolina and Miss Teen North Carolina stopped at our booth, learned what Lions do, received an eye screening and promised to spread the word about Lions.
The Lions members left the event hot and tired, but with a feeling they had performed a worthwhile service to the Apex Community. This is what Lionism is all about.
What A Great Day to be A Lion!