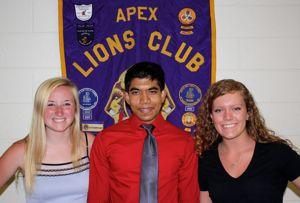 We had a very busy meeting this evening. First we got a summary of this years activities. Our club contributed more than $8,000 to help the visually impaired, more than $11,000 for community related assistance, more than 4,000 hours of community service and 24 people were served by the vision van this year. That's pretty impressive for a club our size! We also sent $1,000 to the Norman OK club to help the victims of the recent tornado. Lion Horace read a couple of letters of thanks that we received from that gift.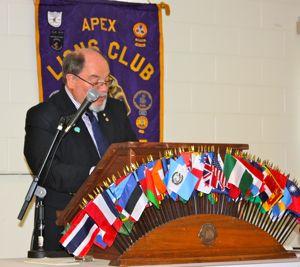 Then we presented three outstanding Apex High School students with scholarships this month. Pictured here are (L to R) Megan Miller, Neil Wathore and Maddie Lewis. Megan will be attending UNC Chapel Hill for Medicine, Maddie is also headed to UNC Chapel Hill for Nursing and Neil is headed to Brown University for Actuarial Sciences.
We concluded the meeting by installing our new officers. Past District Governor (from the Garner Lions Club) Lion Gene English conducted the ceremony. The new officers are listed on our Board of Directors page.