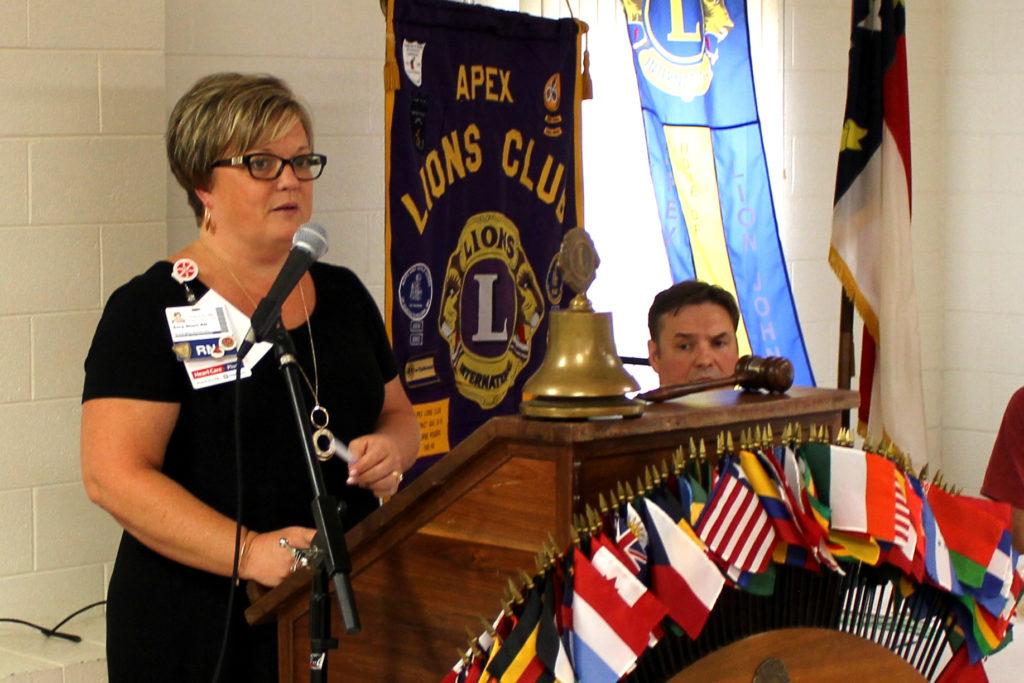 This evening we had a visit from Amy Short, MSN, RN, NE-BC. Amy is the Director of Emergency Services and Invasive Cardiology at WakeMed Cary. She joined WakeMed Hospital in 2006 and she holds a Masters degree in Nursing Administration from the University of Texas at Arlington and is a certified nurse executive. She is a graduate of Leadership Cary and recently completed a Nurse Director Fellowship with the American Organization of Nurse Leadership. Amy was also nominated as a board member for the Holly Springs Chamber of Commerce and began her three year term in January 2019. She lives in Fuquay Varina with her husband and her son.
Any shared with us some thoughts about what to expect when you visit the ER. Some were funny and some were practical like what to bring and not to bring, for example. WakeMed Cary sees roughly 45,000 patients each year. About 20% or 1 in 5 are actually admitted while the rest are treated and released. That means that the ER is seeing a fairly high percentage of patients that are ill enough to be admitted. This could be attributed to the number of urgent care facilities that handle more and more of the cases where people would not need admittance.
The hospital is also chest pain accredited by the American Cardiology Association and accredited as a Stroke Center by the Joint Commission. Amy also supplied us with some refrigerator magnets documenting the symptoms of a Stroke so we can identify them and get treatment quickly. On May 9th the office of EMS did a site visit as well to consider the hospital for Trauma accreditation as well.
So what should you know when visiting the ER? Here are some suggestions:
Know your Insurance Plan, Co-Pays, which hospitals are covered, etc. This is important to know in case you are admitted. Knowing this in advance may provide you an opportunity to select a different ER depending on the severity of the emergency, of course.
What happens when you go to the ER? The first thing that happens is Triage (which means to sort). This is the process that the hospital uses to qualify the severity of the needs so they can be sure to treat the most urgent patients first. Nobody likes to wait and nobody wants you to have to wait but it is important to prioritize treatment this way for obvious reasons.
Next comes the screening phase. This is where you are asked a series of questions to begin the diagnosis process. When did your symptoms start? What medications are you taking? What is your medical history and surgical history? Do you have any allergies? These are the kinds of questions that you will need to answer. These help the staff begin to understand the problem and can sometimes allow them to begin ordering tests before you even see the doctor. Additional questions related to suicide screening are asked as well. This may seem strange to you but if it can save just one person it is worth the time and effort to reach out this way. Similarly, questions related to home situation and potential abuse or unsafe conditions are asked. The reason is that this may be the only time a person has the opportunity to say something so it is important to provide that opportunity. Additional questions assess your risk of falling, travel questions to determine if pathogens like Ebola could require quarantine and finally you will be asked about any advanced directives like Living Wills or Health Care Power of Attorney.
After the screening is complete you are placed in a room to see the doctor. The doctor will make a focused assessment of your condition and prescribe the appropriate tests or treatments accordingly. Labs, X-Rays, MRIs or even admission are possible outcomes. This process takes, on average, three hours if you are eventually released and four hours if you are admitted.
So what should you bring with you? If you have time (depending on the nature of the emergency) you should consider bringing the information to help you answer the screening questions such as your list of medicines (and doses) which can be kept with you on paper or on your phone, same with medical history and surgical history. You should also bring your glasses, hearing aids, prosthetics, an ID card, your Primary Care Physician information, a friend or family member and/or a book (this takes a while), and a charger for your phone. But do NOT bring expensive jewelry, clothes, electronics, or anything else that could be lost accidentally. Also do not bring your pets (but service animals are allowed). One of the more interesting things that people tend to bring to the ER is actually snakes! Often times when people are bitten they capture the snake and bring it with them thinking that it may be helpful in determining treatment. Amy informed us that this is not necessary. They treat snake bites the same way no matter which kind of snake made the bite. So don't try to capture the snake and bring it with you – just get to the hospital!