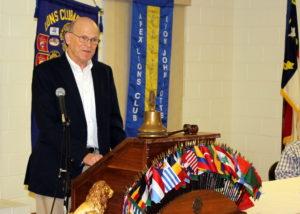 Our guest speaker this evening was John Poetzsch who spoke to us about his passion to change how people view mental illness. Here are his remarks:
"Damaged by a Dysfunctional System, Determined to Alter It"
That was the title of a newspaper article that caught my attention a year ago. The article was about two families that each had a child that struggled to enjoy the fullness of their lives due to periods of mental illness. Much of the struggle for the child and the parents was dealing with the state of our present mental health system in North Carolina.
A dozen people had formed a new group called Stand-by Me-NC. A community kickoff event was scheduled with the simple statement in the paper: "Gathering people who care about mental health issues into a nonprofit that can replicate the public awareness successes of autism or breast cancer groups is one goal."
That article was enough to draw me to a meeting of the new group to hear and maybe discuss my personal concerns with the perception of mental illness and the stigma placed on those with mental illness and their families. I knew I had a story to tell for my family and especially for my brother-in-law.
My brother-in-law was Spencer R. Mims, III; known as Ace within the family. He graduated from UNC. He was a good and kind man. Spencer and I were good friends – "brothers" and had many good times together. He was Godfather to both of my children.
The reason I am standing here before you tonight to talk about Mental illness is because, On January 6, 2013 Spencer died on the way to the hospital at the age of 55 after being shot by the police on his own front porch in front of his father. His father had called for help as his son was having a serious episode of depression and mental anguish.
I have had the time to reflect on Spencer's life, the stigma placed on him by others and my perception of his life. At times, Spencer's mental illness was very disruptive and upsetting for the family. Talking about mental illness is admittedly uncomfortable. I did not make much of an attempt to learn more about his struggles in the 42 years that I knew Spencer. We, as individuals and as a group, need to look for those opportunities to listen to our own family members, our friends, and our community organizations for those who are struggling with life issues.
"Damaged by a Dysfunctional System", the first part of the title I knew was true. "Determined to Alter It" was something I knew needed to be done. Spencer was diagnosed in college with mental illness. He suffered with bipolar with periods of depression, anxiety, obsessive-compulsive disorder and periods of excessive spending. Spencer worked hard to maintain his mental wellness. Like many other illnesses of our body, his kept coming back. Spencer initially did not use the company provided health insurance to cover the required medical care for fear of the stigma that may be placed on him by his company. This illness in no way defined who Spencer was. Spencer was very intelligent with a depth of information on a multitude of subjects. He was outgoing, friendly, sensitive and humorous. He was a loving son, brother and very close to my children who always called him "Ace."
Spencer's family was very involved in their Church. His father was the choir director at their church for over 40 years. His mother taught at the preschool. All three of the children were in the youth group, sang in the choir, and played their trumpet and violin at special services. The parents formed close bonds with ministers who served the church through these years. Despite all of these activities and relationships, very few church members knew of Spencer's struggles. How can our social organizations support members and their families when they are not even aware there is a problem?
In stark contrast, when Spencer's mother, Mattie, was diagnosed with cancer in 1993, everyone knew; extended family, church members, friends, and neighbors. From her diagnosis, through her treatment, upon her death 3 years later, and beyond; Mattie and her family received the support and love they needed to survive a very difficult ordeal. There was no stigma that Mattie had cancer because of how she was raised. There was no stigma that Mattie should have been able to cure herself.
Spencer was in the hospital twice for treatment and no one knew but his family. The stigma that we have attached to mental illness prevented Spencer from receiving support. That support may not have prevented the final tragedy, but it would have made one day in his life better.
Spencer's funeral was held at the same church where he was baptized, a member of the youth program, sang in the choir, and played his trumpet along with his brother and directed by their father. At the visitation, friends and coworkers each had a heartwarming story to tell about how Spencer helped them at work or with a personal concern. Spencer's own mental illness made him very aware and sympathetic to the struggles of others. In some way, he had touched all their lives.
It was sad to realize that very few knew of Spencer's problems until they read the headline in the paper and the saw the story on the nightly news channels. Has this happened at your neighborhood, church, or organization? You pick up the paper or turn on the news and a member has committed suicide, died from a drug overdose, or been shot by the police during a period of depression. Each of these tragic events have happened at my church.
Prayers were offered, heartfelt condolences given, dinners were served, and the church members were devastated each time, but life returns to normal. Could anything more have been done by us as a group to change these tragedies?
In our church there is a time during the service to express the concerns of the congregations. Every illness the human body can have has been mentioned and we prayed to our Lord to ease the member's suffering, except when the suffering was mental illness. I cannot claim to have attended every service at my church. But is mental illness ever acknowledged during the time of concerns? Has it been acknowledged in your group?
We pray for the souls of those with mental illness, but typically only after they have died. We pray to ease the pain of the family and friends, after they have lost a loved one too soon.
You may be thinking, but the family often does not want the underlying problem of mental illness discussed. That is true. It is not comfortable for us to discuss mental illness. There is an alternative way to have the discussion. For my family, it was to have it on the front page of the paper and on the morning, evening and late night news as the lead story.
Headline "Police shoot, kill man", 55. But the police statements in the paper were certainly not the whole story! "Officer fired a stun gun at Mims in an effort to stop him from hurting himself" and "Man lunged at officers with the box cutter. Officer fired at least once, hitting the man."
Contrast those with the neighbors comments to the reporter: "It just doesn't add up." and "There wasn't a violent bone in his body. It's totally out of character that he would threaten his life." and "He was just a very loving, very caring man. I'm so sorry it ended this way for him."
That is how our friends, co-workers and church members learned of Spencer's struggles in life. Our neighbors learned because they heard the three shots and later saw the 30 plus policemen, their vehicles, and news trucks at my in-laws house.
It is time to talk about mental illness for what it is, an illness, before it is a headline for a family in your church, in your neighborhood, or in your organization.
Through the process of understanding my perception and the stigma of mental illness I was looking for ways to open others to change their perceptions. I realized who would care what John Poetzsch had to say. Any type of positive change in society has always taken more than one. It takes individuals in a well-organized group willing to take action. What more organized group is there than our existing civic organizations to be a catalyst for change?
Damaged by a Dysfunctional System, Determined to Alter It! A short title that said exactly what I needed. Spencer was certainly damaged throughout his life by the stigma placed on him only because he had an illness that happened to be a brain disorder.
During that first meeting in August, the chairperson, Donna Smith, gave a speech on the group's goals. In her speech, she stated several things that could happen to you if you have mental illness in North Carolina. They were not good outcomes. I wanted to stand up and add: "You can be shot and killed on your own front porch after your father called the police for help!" I wanted to add this because I have learned since Spencer was shot that his death was not an isolated incident for someone with mental illness. It is my very strong belief that our police forces must change their perception of citizens that struggle with mental illness and implement Crisis Intervention Training (CIT).
Our organization, Stand by Me-NC, wants to change the perception of mental illness. Perception is defined as, "the way you think about or understand someone or something." Three of the following four Mission Statements of the organization includes the word "Perception."
To alter social perceptions of mental illness by using the power of grassroots organization and community engagement as agents for change.
To validate and normalize the experience of those living with mental illnesses.
To correct the perception that mental illness is a terminal lifetime sentence.
To ensure that the public perceptions and discussion about mental illness reflect our daily realities
The treatment of mental illness has improved over the time of Spencer's life. It is now 2017, over 40 years, since Spencer was diagnosed with bipolar disorder. I do not see that society's perception of those with mental illness has changed enough since the 1970s.
How can you and your organization help when those suffering and their family will not even discuss the problem? Good Question. As a Methodist I researched what the Methodist Church says about Mental Illness. In the 2016 Methodist Doctrine there is a Section, Ministries in Mental Illness?
It is stated, "Jesus had compassion and healed those besieged by mental illness, many of whom had been despised, rejected, persecuted, and feared by their community."
Surely this "community" is not referring to us! It must be others! But, it is us and it is me! Mental illness is hard to understand and harder to treat. As an individual and as a community we can, at least, learn to understand that mental illness is an illness. We know there is a problem, what can we do to make it better? The Methodist Church lays out an excellent step by step plan. Many of the steps are very involved and difficult.
The number one step starts with "Stigma." it is stated that:
– "Stigma has been with us for millennia and remains a major issue today."
Later under the heading Education.
– "Education … reduces the stigma of mental illness so that persons who suffer from brain disorders, and their families, can more freely ask for help. Such education also counters a false understanding that mental illness is primarily an adjustment problem caused by psychologically dysfunctional families."
There are numerous other important steps presented for aiding individuals that suffer with mental illness and their families. I would like to put forth the premise that the most important step is that the Stigma of Mental Illness is defeated.
My wife, Debbie, Spencer's sister, has noted how friends, coworkers, and church members have acted completely different in providing comfort over her mother's death from cancer compared to her brother's death from mental illness. There was an outpouring of support and love during her fight with cancer and after her mother's death. There was support and love after Spencer's death. But when offering support, if they don't literally whisper they will figuratively whisper about Spencer's death. They don't want anyone else to hear what happened, he was "mentally ill" the police shot him. Of course, it was a headline in the paper, it was on the news more than once.
I called my supervisor at work to tell him of Spencer's death and that I would be out of work for a week. When I returned almost no one said "I am sorry to hear about Spencer's death." It was as if it never happened. What would they have said if he died from a heart attack? Everybody was uncomfortable about the topic. So let's not talk about it! By not talking, we are acting as though Spencer never lived 55 loving and caring, yet at times, difficult years.
In our communities:
– How do we perceive a friend or family member with an illness?
– Do we behave differently if the person has mental illness as compared to cancer or other serious illnesses? Without a doubt – Why?
– Do we treat someone with mental illness as if the illness is contagious?
– Why do we not treat mental illness like any other illness?
– Why are we afraid? We fear what we do not understand!
– Why do we think the person suffering can change their behavior and cure the problem if they try?
I would like each of you to think of ways you can help change the perception and the stigma placed on individuals with mental illness within your social settings. Some possible ways for you to consider are:
– Be a speaker to tell your story as appropriate or encourage others.
– Host speakers with your church or community groups to educate on mental illness.
– It is initially hard to discuss mental illness. I think you will find that once you get them talking it will be hard to get them to stop. I am a prime example for that.
– Be an advocate to help others struggling through the mental health system.
– Be an advocate at your State Legislature or local level.
– Make a day to day point to listen to those that may struggle with their Mental Health Wellness.
Writer Ron Powers has written a book titled, No One Cares about Crazy People.
In the preface he states: "I hope you do not 'enjoy' this book. I hope you are wounded … wounded to act, to intervene."
He later states, "governments never spent money to "sustain their mad people. The mad don't vote; mad don't do anything to generate wealth .. why toss good money at them."
He goes on to say, "If rounding up is too much of a challenge to law enforcement they can then simply be shot dead on the street. Or in their homes."
My family has been wounded without reading the book. Spencer worked his whole life, paid taxes never took a penny from the government. He always voted! He just didn't want "us" to place the stigma on him, that he was a "Crazy Person!"
My hope is that we can change the perception and stigma of mental illness. You may already be educated on or have a story to tell on Mental Health. Take back the message to your community that mental illness should not stigmatize an individual or their families. This would be a small starting point to improve the lives of those that suffer, along with their families and friends day by day.
I would like to end with a recent positive Quote from Prince William of England "It's time that everyone speaks up and really feels very normal about mental health. It's the same as physical health."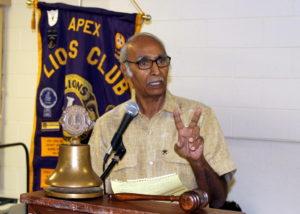 We also had a special visit from an old friend. Lion Kanu Patel from India came back to visit us once again. He was here in the USA to visit his son who is a doctor in Cary, NC. He had been in the USA back in 2010 and visited us at a meeting as well as volunteering at our Fish Fry that year. It was good to see him again. He shared some wisdom from a book called "Your Health Is In Your Hands" which is a book on Accupressure from an Indian author.
Finally, this evening we had the honor to present Lion David Greybill with a Lifetime Membership. Lion David has been a faithful member of our club for over 20 years. This was his last meeting with us in Apex, though. His family is moving to Sanford where he expects to transfer his membership. The Sanford Lions Club was our sponsoring club back in 1937 so we know he will be joining a great club there!