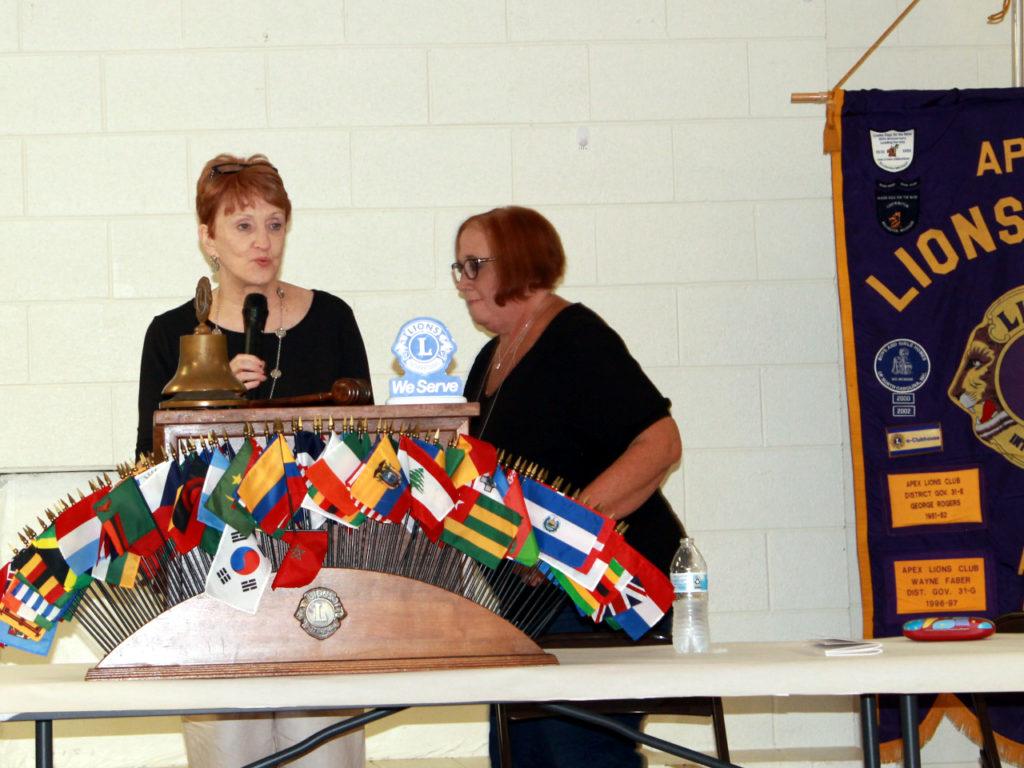 Our special guest speaker this evening was Janet Schanzenbach, Director of Development and Community Relations for North Carolina Reading Service. Janet's priorities include working with Senior Living facilities as well as increasing awareness about NCRS through public speaking engagements, social media, and special events. She is also tasked with raising funds to support the mission of NCRS.
North Carolina Reading Service (NCRS) is a 24-7 Reading Service for people who are blind or print impaired. It began in 1983 with a one hour per day radio broadcast but today is broadcast over the radio 24-7 and is also streamed to many Senior Living facilities and other locations. The paid staff is extremely small (only 3 paid). There are about 40 volunteers who read for almost 9,000 hours each year. Not just anyone can volunteer, though. The readers are auditioned to ensure that they can read effectively and have pleasant voice tone amongst other things.
Some people may wonder if a Radio Reading Service is still relevant in this day and time. But it's important to note that most online news these days is just "sound bites". The NC Reading Service is quite different in that they read the entire stories from major and local news sources. For example, some of the sources are newsletters like USA Today, News & Observer, Wilmington Star, New Bern Sun, Greenville News & Record. They also read full articles magazines like The New Yorker, Wall Street Journal, Time, Sports Illustrated for kids and others. And they have original broadcasts and other interesting material appropriate for their blind and visually impaired audience that is available nowhere else. They strive to promote independence for their audience by narrating things like community calendars and even sale papers for grocery stores and anything else they can think of that would be helpful!
But as a 501c3 charitable organization they receive no funding from the state or local government. They rely solely on donations from the public. So, Janet jokingly said that she is a "professional beggar". You can join their "Spare Chang" program by visiting ncreadingservice.org and clicking on the "Round up your spare change" link to round up any purchase you make on your debit or credit card to the nearest dollar and support the NC Reading Service by that amount. Your tax-deductible gift will be used to support daily operations.
At the end of the meeting, we donated all our 50/50 raffle money to the NC Reading Service. It was a small gift, but every dollar helps!