Our distinguished guest this evening was current District Governor Allen Swaim.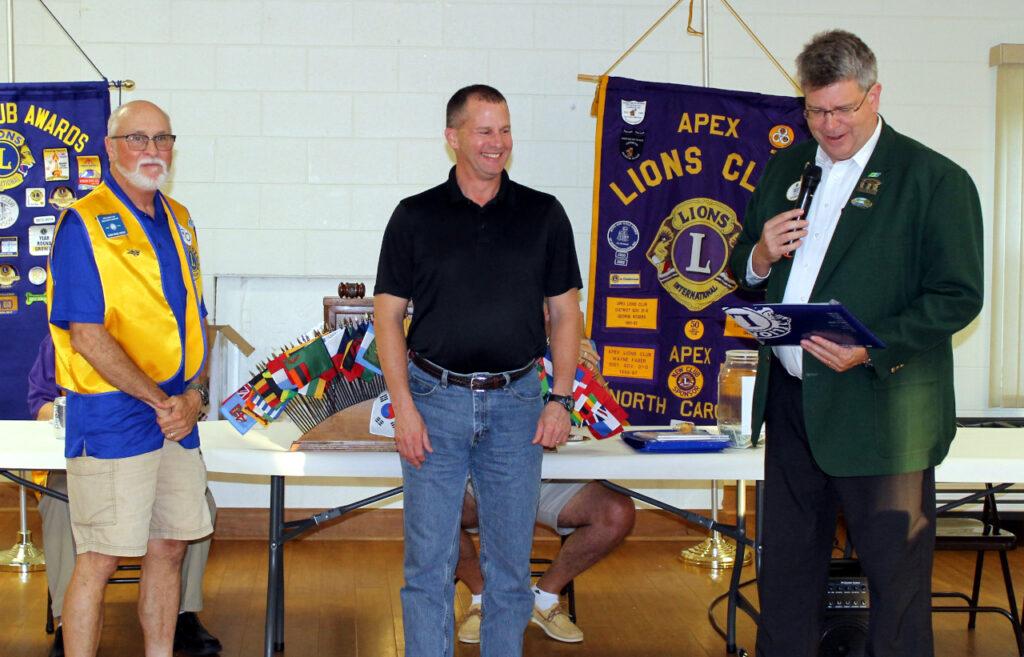 Our first order of business was to install our newest member Kevin Conroy. Pictured here are Lion Paul Dean (sponsor), Lion Kevin Conroy and DG Allen Swaim.
DG Allen is a very good speaker and storyteller. This evening he did not disappoint. First he shared the story of how he met his wife Amy. And he shared a story about a boating experience that blended in very well with a fortune he brought from his fortune cookie from lunch earlier in the day. The fortune said something like: "Calm waters never made a good mariner". And the story he shared was about how his family had a harrowing experience one day on Lake Jordan when a storm overtook them in a sailboat. The moral of the story was this: Although we have been through some tough times (and may note be done just yet) we will come through and be better because of the experience. So we should be encouraged to keep doing the service we always do no matter what the trouble of the day may present. In the end, the service is useful and effective and we are better through it as well.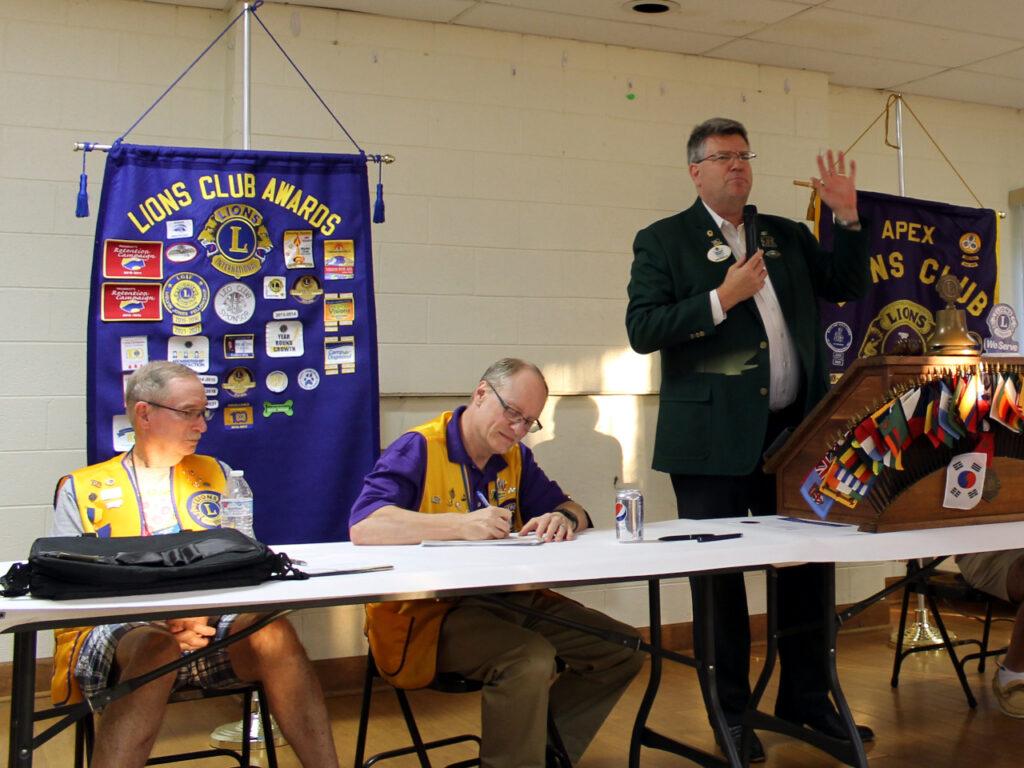 The Brighter Visions Kickoff held this past weekend was a tremendous success! We have started the year with almost $30K which may be a new record. This money all goes to the charities and causes that Lions Clubs support so it is critical in sustaining those services. Our goal this year is $120 per member and we are almost 1/3 of the way there already! Last year we came in 2nd out of the 5 districts in NC but this year we are shooting for #1. To meet this goal DG Allen is asking that every club dedicate one project to raise funds for Brighter Visions exclusively. It does not have to be a huge project but every dollar helps.
Another initiative that DG Allen is pushing for this year is a new but very exciting one. Recently he had the opportunity to visit Johns Hopkins University's Wilmer Eye Institute where he learned about a project they are developing there. It is a pair of "glasses" which has leads that can be connected to a person's brain. Even if the person literally does not have eyeballs these glasses can generate an image with 64 blocks that the person can "see". And there is an earpiece in the glasses as well that can identify and speak what certain objects are. This is a little bit like Jordi from Star Trek – but real!
We believe that this technology will be refined and scaled over time and will ultimately become a CURE for blindness! The scientist responsible for the project says that if a person were born today just like Hellen Keller (blind and deaf) it is quite possible that by the time he or she graduated High School they would be able to see and hear almost like a normal person. That's how close we are to actually curing blindness! The only thing slowing this down right now is money for the research. In the past we have seen Lions Clubs have fundraisers for things like library books where they raised 1 Million pennies. So this year we are going to start a campaign to raise $1 Million to CURE Blindness once and for all! DG Allen brought an example cheese puffs jar with a label on it and suggested that we make some of our own to place around town at various businesses to begin collecting dollar bills for this cause. Imagine if we saw the cure for blindness in our own lifetime!
The last topic was a membership challenge. DG Allen is encouraging us to bring in more Lions this year. For each Lion that sponsors 3 new members while he is DG (July 2022 through June 2023) he is planning either a dinner at Angus Barn or something even bigger if there are many that achieve this goal. So make sure to wear your Lions Club pin and gear and talk to people you meet about what we do! After all these years we still remain the best kept secret in town. Our town of Apex has grown by leaps and bounds in the past decade but our club has actually gotten smaller. We need to share what we have been doing and continue to do so that everyone knows. What civic minded person would not want to be a part of this?!
Of course, DG Allen thanked our club for all that we do. We are well known as a model club in the district and the state for that matter. One of the reasons for that is our amazing fundraiser at the State Fair. In fact, it's coming up again in October which will be here very soon. Lion Horace gave us some details about the preparation that will need to be done and had some signup sheets at the meeting as well. More to come on that soon!