Last year we requested a grant from Lions International to assist us in purchasing a vision screening device or our own. That request got approved so we purchased a very cool piece of equipment! This device allows us to screen children as young as 6 months old! Unlike typical eye exams there are no eye charts to read which is a good thing because most 6 month olds can't read yet! All they need to do is watch the lights flash for about 2 seconds without blinking and the camera can screen their eyes. This does need to be done in a low light setting, though, because the patients eyes need to be slightly dilated to enable the camera to scan properly. So we decided to purchase a "black out" canopy and try this out for the very first time at the Apex Night Out event on October 6th. Not only did the special canopy work as well as we could have hoped, but we had a steady stream of children and parents lined up for practically the entire evening. All in all we performed 110 free eye scans for children and their parents and referred 18 of those to get complete eye exams. We were so busy doing screenings that we almost forgot to get any pictures. This is a picture of the very first "patient" we screened with his mom.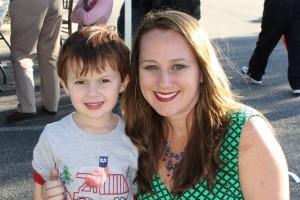 What a wonderful first experience using the new vision screener! We are planning to bring it to the Peak-a-Palooza event this coming Sunday as well. Bring the kids!
Special thanks go out to Lion Horace Johnson, Lion Jolene Umbenhauer, Lion LeeAnn Moffitt, Lion Joe'l Lynde, Lion Chris Norcross and Lion John Lynde for volunteering for this event!