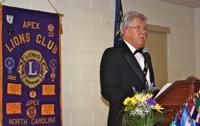 The Apex Chamber of Commerce held its Annual Awards Ceremony on October 11th at Prestonwood Country Club. Two local businesses were recognized for their outstanding commitment to the Apex community and two citizens were celebrated following years of service to their town.

Capping off the night was the Citizen of the Year Award, which was presented to our very own Lion Horace Johnson. Lion Horace was recognized for his longstanding commitment to numerous civic and community organizations, most notably the Apex Lions Club, and also for his commitment to senior wellness programs at Spring Arbor of Apex Assisted Living for the last 10 years. We lions have known for a very long time just how dedicated Lion Horace is to serving the community and helping others in Apex so we could not be happier than to see him get recognized by the Apex Chamber of Commerce as well.
Congratulations Lion Horace!