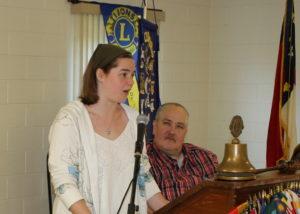 We had a very busy meeting this week.  The first order of business was to vote on the incoming slate of officers and directors.  The vote was unanimous and we plan to have our installation at our next meeting on June 21st.
After that Lion Wayne read a thank you letter from the Apex Police Department for our donation to their canine program.
Next we had the privilege of hearing from two of our scholarship recipients.  Griffin Hoey is planning to attend Appalachian State in the fall.  Jennifer Shen is heading to Duke University and plans to study Biology and Chemistry and hopes to get into the Pre-Pharmacy program.
We also got a visit from the Pack Master from Pack 312.  Carl brought along another pack leader, Steven Hollar as well.  They expressed their thanks for chartering the pack as well as excitement and interest in becoming more involved with us in the future with service activities.
Finally, we ended the meeting with our special guest speaker Caroline Covington.  Caroline is the founder of Insightful Visionaries (InsightfulVisionaries.org) which is an organization established to empower blind and visually impaired people.  She grew up in a family that had big dreams.  Her oldest brother went to Yale, her next brother went to MIT and she had dreams of becoming a hair stylist, traveling the world and owning a chain of salons.  Caroline's dreams came true, too, as she built up her business in the D.C. area and achieved the success she dreamed of.
Then life changed when she was diagnosed with "RP" or Retinitis Pigmentoma, an incurable (for now, anyway) disease that leads to blindness.  Now Caroline is legally blind.  But that does not stop her from doing whatever she can to help others.  Insightful Visionaries has many projects including: "Glam" which teaches young girls to dream big, Christmas without Lights which is where people share stories of what Christmas means to them and childhood memories, and "Blind Idol" which is a talent competition for the blind and visually impaired.  They even have a lounge where people can try out technology to assist the blind and visually impaired.  Their newest project is called "4 Senses Wellness Center" and it aims to employ blind and visually impaired as well.  Their ultimate goal is to help them become entrepreneurs themselves.  Visit InsighfulVisionaries.org to learn more or email at email@InsighfulVisionaries.org