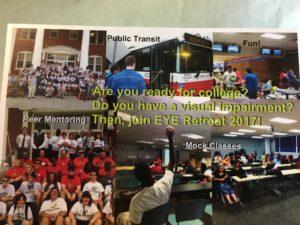 On Saturday, July 29th, sixty VIPs ​from nine states arrived at the Governor Morehead School in Raleigh for a summer retreat. The Envisioning Youth Empowerment (EYE) program is a week-long program focusing on mentoring individuals with visual impairments, acquiring skills for real life situations, and information on local, state and federal resources available to them.
A wide variety of classes include topics such as maintaining a healthy lifestyle, independent living skills, tips for living on a college campus, financial aid, personal safety, group travel assignments and many others. With access to certain of the facilities on the campus of NC State, the week also included a variety of recreational, social and community activities, all designed to provide an enjoyable, informative program.
Lion David Delehanty of the Apex Lions Club was there to assist! We Serve!!