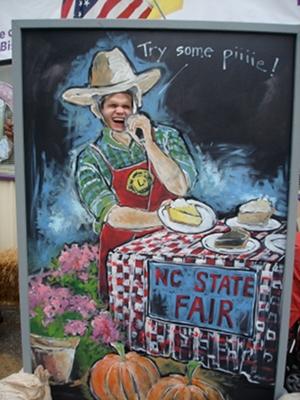 The 2011 North Carolina State Fair is well underway now and we are still serving up the same great food we always do! Please come on in and join us for breakfast, lunch and dinner!
We got a special visit from one of our sight impaired beneficiaries, Noah Long, who got his picture taken at our "Pie Man" board and then performed his impersonation of the "Piiie man", Horace Johnson. Click "Read More" below to see the video. Check it out, he's pretty good!
Stop bye and see us for your own piece of piiiiiie. But you better hurry, there's just one piece of Sweet Potato pie left!